New Exhibitions Open in University Art Gallery Through Oct. 8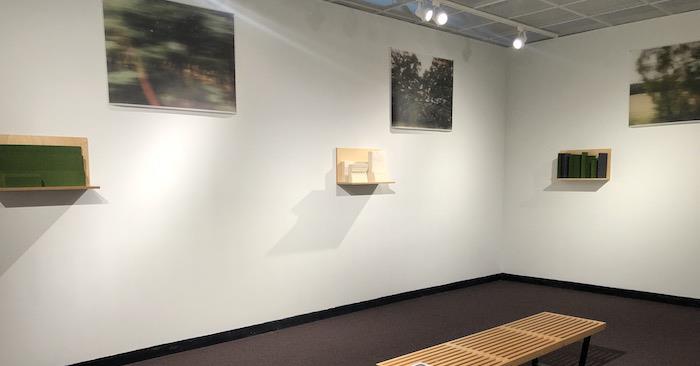 Marcie Miller Gross's exhibition "Recording Place" is on display in the Charlyn Gallery. The University Art Gallery will open two new exhibitions through Oct. 8.
Two new exhibitions will be on display in the University Art Gallery through Oct. 8.
The schedule will begin with a show of recent faculty work in the main gallery. This year's faculty exhibition will showcase recent plein-air watercolors by Russell Nelson that show Midwestern landscapes and scenes from the artist's travels, in addition to new design and print work by Matthew Derezinski, and paintings and drawings by Aaron Fine related to his new publication "Color Theory: A Critical Introduction."
An opening reception will take place from 5-6:30 p.m. Aug. 31. The gallery will be open and refreshments will be served outside the Ophelia Parrish doors nearest the gallery. The University Art Gallery is located in Ophelia Parrish 1114. All exhibitions are free and open to the public. Masks are required in the gallery.
In the smaller Charlyn Gallery, a contemplative exhibition of works by Kansas City artist Marcie Miller Gross, called "Recording Place," combines sculpture, fibers and photography to invite viewers to consider their experiences of space and temporality. In recent years, Miller Gross has received numerous ArtKC grants and the GlogauAIR artist residency in Berlin, where the photographs in this exhibition were taken. Her work has been featured at the Mid-America Arts Alliance. She is represented by Haw Contemporary in Kansas City and will visit campus Sept. 16 to give an artist's talk.
For more information regarding artist talks related to these exhibitions and to see the full 2021-2022 schedule of exhibitions, visit
gallery.arttruman.com
. For any questions contact Heidi Cook, art gallery director,
hcook@truman.edu
.