Graduation Ceremonies Set for May 7-8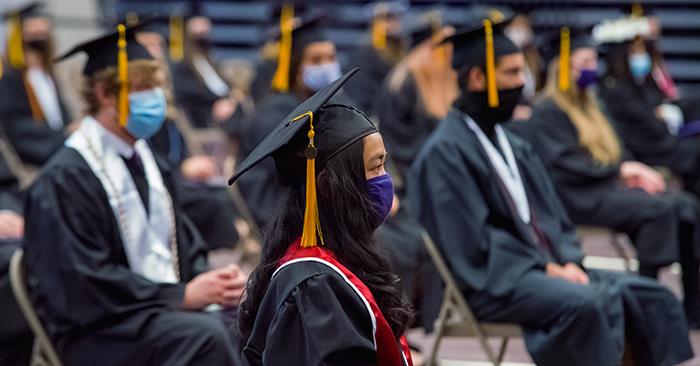 In order to conduct an in-person ceremony for graduates and their families, Truman will expand spring commencement this year and host seven ceremonies between May 7-8. Students must apply to graduate no later than April 1 in order to participate in the ceremonies and be listed in the program.
All candidates are assigned to a specific ceremony based on their first degree program. Candidates may not make adjustments to the ceremony to which they are assigned. Candidates will be emailed instructions for their ceremony, arrival time, clearance process, graduation fair, etc. Candidates not planning to participate in commencement must notify the Registrar's Office by emailing
annare@truman.edu
before April 12.
Specific details regarding each ceremony are also available at
truman.edu/registrar/commencement
.
Graduates will receive their tickets during the graduation fair. Family and friends who are unable to attend the ceremony in person can watch live online at
truman.edu/registrar/commencement/commencement-broadcast
.
May 711 a.m.
All undergraduate accounting, agricultural science, art, art history, biology and design degree candidates
2:30 p.m.
All undergraduate biochemistry and molecular biology, business administration, chemistry, classics and communication degree candidates

6 p.m.
All undergraduate exercise science, French, German, health science and history degree candidates
May 89:30 a.m
.
All undergraduate interdisciplinary studies, justice systems, liberal studies, linguistics, mathematics, modern language, music, nursing, and philosophy and religion degree candidates
1 p.m.
All undergraduate communication disorders, computer science, creative writing, economics and English degree candidates
4 p.m.
All undergraduate physics, political science and international relations, psychology, Russian, sociology/anthropology, Spanish, statistics and theatre degree candidates, as well as commissioned officers
7:30 p.m.
All master's degree candidates