Weekly COVID Update: Masks Work, Vaccine Availability Expanded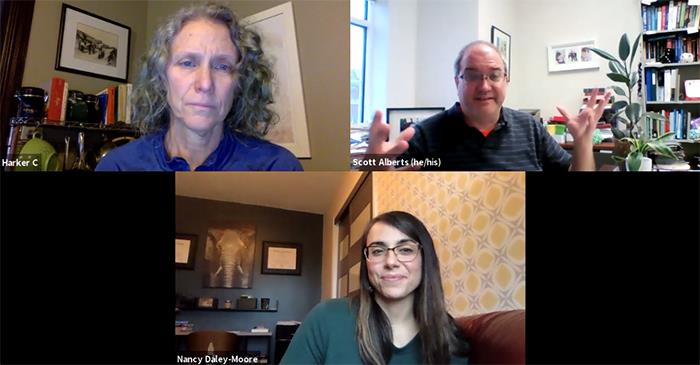 In their weekly meeting, Faculty Senate COVID-19 Working Group committee members Nancy Daley-Moore, Christine Harker and Scott Alberts took a closer look at the effectiveness of masks and increased vaccine availability.
The CDC recently released information on mask efficacy that has been misrepresented by some. Its report looked at a variety of counties with mask mandates and determined they were effective and statistically significant. While initial numbers showed a decrease of 2% in cases, Alberts, a professor of mathematics, pointed out that number was a slope, not a simple number. He noted that every 20 days a mask mandate was in place increased its effectiveness by another percentage point or two.
"Because of the way cases spread, if you can get even a small decrease at the beginning, it's an exponential curve," Alberts said. "It's going to have a huge effect down the road."
Adair County numbers rose steadily before a mask mandate was implemented in late November. Since that time, the daily average number of cases reported by the Adair County Health Department has dropped each month, from a high of about 19 in November to less than three per day through the first three weeks of March.
The group also discussed vaccine availability. Missouri is now in Phase II, meaning all Truman faculty and staff are eligible for a vaccine. Gov. Parsons recently announced all Missourians will be eligible for a vaccine starting April 9. Information on local vaccine options can be found
here
.
A recording of the committee discussion can be found
here
.