Class Works to Combat Light Pollution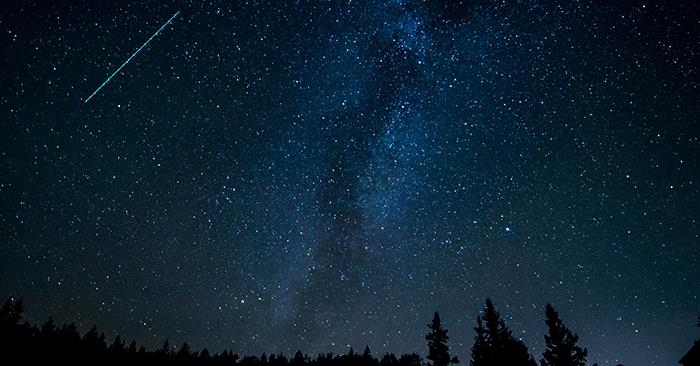 Students in the TRU 100: ILLUMINATE group have been studying light pollution and its effects in the surrounding community.
Along with being better able to see the night sky, reducing light pollution has some major benefits. Light pollution disrupts ecological systems as well as sleep cycles in humans. Natural patterns of light determine wildlife behavior in a variety of ways, including predation, reproduction and fatigue, which are drastically altered when subjected to light pollution. Furthermore, light pollution comes at the price of unnecessary energy costs and carbon emissions, impacting both the consumer and the environment.
ILLUMINATE is taught by Vayujeet Gokhale, associate professor of physics and astronomy, who has been working to combat light pollution for years. He decided to teach this symposium course because he wanted the opportunity to be involved with the freshman students and thought this would be a great topic to teach about a variety of lessons, not just light pollution.
"The basic rationale for this freshman symposium is such a perfect fit to the topic of light pollution, that it made imminent sense," Gokhale said. "Studying the topic of light pollution and doing something about it is a great way to learn about teamwork, civic engagement and problem solving. It is a relatively easy problem to grasp, and students develop – hopefully – an understanding that even though solutions may be simple in principle, they are sometimes hard to implement in practice."
Throughout the semester, students have studied the causes of light pollution as well as its effects on people and animals. In addition to designing solutions to prevent light pollution, which in some cases can be as simple as installing lights to point down rather than up, the students have been documenting and posting about the issue on social media to raise awareness. Gokhale hopes some students will continue their work after they complete the course.
"A more ulterior motive is to recruit some of our freshman students into the light pollution research group so that they continue their work over their stay at Truman and help us reduce light pollution in and around Kirksville," he said.
Under Gokhale's direction, a group at Truman has been receiving grant money from the NASA-Missouri Space Grant Consortium for the past five years to conduct light pollution research. Part of their work has involved installing sky quality meters at various locations in and around Kirksville.
The Stargazers astronomy club, with assistance from the Environmental Sustainability Fee Committee and the Funds Allotment Council, has been doing its part to help. The club is working with Physical Plant and school administrators to change some of the outdoor fixtures where possible, and in retrofitting some of them with dark sky reflectors. They have also been replacing blue-white outdoor lights, which are more harmful to animal and plant life, with off-white and yellow lights.
One of the long-term goals of Gokhale's, and something the students in ILLUMINATE have worked toward, is to make Kirksville a dark-sky community and follow International Dark-Sky Association guidelines. Making places such as Thousand Hills State Park a dark-sky area would not only make it possible to see more of the night sky, it could potentially attract more visitors to the community.
The ILLUMINATE group is documenting their efforts through social media. They can be found on Instagram at
@darkskyTSU
.