Homecoming Honorees Announced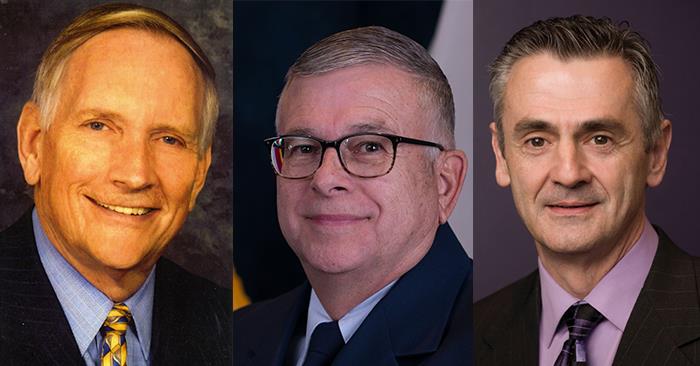 Homecoming honorees Russ Sloan, John W. Davison and Keith Epperson
Several Truman alumni will be recognized at the Bulldog Forever Celebration Banquet at 6 p.m. Oct. 18 in the Student Union Building Georgian Room as part of Homecoming 2019.
In addition to the following honorees, banquet ceremonies will also include recognition of the Bulldog Forever Alumni Group of the Year and the
Golden Alumni
. For more information on the alumni being highlighted during the banquet, visit the Homecoming Honorees
website
.
Homecoming Parade Grand Marshal
Russ Sloan
Russ Sloan received his undergraduate and master's degree at the University of Missouri. Following graduation, he entered the coaching ranks at Truman, becoming line coach in 1968 and head football coach in 1969. His Bulldog teams won three consecutive MIAA Conference Championships, and in 1971 he was the NCAA Division II Runner-up for Coach of the Year (District 6), missing the top spot by one vote. His winning percentage of .803 is only surpassed by Bulldog coaching legend Don Faurot's .809.
In 1972, Sloan resigned from Truman to run for the U.S. Congress in Missouri's 6th District, losing to Jerry Litton in what became the 17th most expensive House race in the nation and the closest House vote in Missouri. After the election, he was named Missouri state director of Motor Vehicles and Licensing and was editorially recognized for saving Missouri tax payers more than one million dollars.
Following his service in state government, Sloan worked as the athletic director at Southeast Missouri State University and Fresno State University. In 1985 he was named executive director of the Fresno City and County Chamber of Commerce, which initiated a 20-year career in leading major chambers of commerce in California, Indiana and Florida.
Sloan has been inducted into the Truman Athletic Hall of Fame, the Missouri Sports Hall of Fame and the University of Missouri Athletic Hall of Fame. He was also elected by his peers to head the State Chamber of Commerce Executives Association in Indiana and Florida. Sloan has been honored by the College of Education at the University of Missouri and received the President's Award from the University of South Florida, the highest non-academic award bestowed by the university.
Sloan and his wife Peggy will be married 60 years this December, and they have three adult children, eight grandchildren and three great-grandchildren. They reside in Leesburg, Fla., about an hour north of Orlando.
Denise L. Smith Alumni Volunteer of the Year
John W. Davison
('75, '81, '84)
John Davison's Truman and ROTC story began in 1969 when he attended the ceremony to establish the program at the University. He graduated from Truman in 1975 and then volunteered to teach military science at his alma mater from 1986-89 and 1993-95. In addition to an Education Specialist degree in education administration from Truman, he has a Master of Arts degree in management from Webster University.
Homecoming 2019 celebrates the 50th Anniversary of Army ROTC at Truman. After exploring the idea of a Truman ROTC alumni group for several years, the "Truman Army ROTC Alumni Regiment" was established in 2014. The ROTC alumni group has grown steadily through the grassroots efforts of many alumni and friends. Davison deeply believes that each class of Truman Army officers stands on the shoulders of past generations and that they are called to pay it forward to those who follow them.
Following a successful Army career, Davison served in northeast Missouri as a teacher and principal before retiring as a superintendent of schools. He and his wife, Lois, returned home to plant three new churches and continue volunteer work in missions, radio ministry and, most recently, establish an area dinner church to provide fellowship for the lonely and community for anyone.
Davison also serves as a volunteer in the U.S. Coast Guard Auxiliary in the tri-state area as a district captain, providing leadership geared toward saving lives and assisting the active duty Coast Guard. Currently he serves as minister of a local Kirksville church and continues in many volunteer activities.
Distinguished Service
Keith Epperson
('82)
Born and raised in Council Bluffs, Iowa, Keith Epperson's score on the state-based standardized math test was the highest at his high school, which prompted a phone call from Dr. Dale Woods, a Truman math professor. Woods convinced Epperson and his parents to visit the college, and the rest is history.
While attending Truman, Epperson was a member of the Alpha Kappa Lambda social fraternity and the Kappa Alpha Epsilon professional math fraternity. With encouragement from his father and support from Dr. Mary Sue Beersman, another Truman math professor, he chose to study math and statistics, earning a bachelor's degree in 1982 in mathematics with a concentration in statistics.
Following graduation, Epperson began his career as an actuarial student at Mutual of Omaha. He then moved to Des Moines, working for American Republic and ultimately became the chief health actuary. At one point during his 15 years in Des Moines, he received an invitation to a Truman-related social event in town. That event spurred a small group of Truman alumni, including Epperson, to begin what is now the Iowa Alumni Chapter. Epperson served as the president of the chapter for a time, and he also served for one year on the first national alumni board as the Iowa Chapter representative.
Epperson and his wife, Rhonda, have been married for 37 years. They have three children and five grandchildren. Epperson's son attended Truman as well and married a fellow Truman student. In his spare time he enjoys spending time with his grandchildren, tinkering with antique clocks and relaxing at Lake Okoboji in Iowa. He has been fortunate enough to have the opportunity to climb Mt Kilimanjaro, trek Nepal, hike to Machu Pichu, hike dormant volcanoes in Peru and spend time in the Philippines.
After working in Minneapolis as chief actuary and senior research scientist for United Healthcare, Epperson took his current position as chief actuary for Bright Health Insurance Company. His passion for Truman has only grown stronger after his years as a volunteer on the National Alumni Board and with the Iowa Alumni Chapter, and he is endeavoring to create a new circle of friends by connecting Truman to the Twin Cities.
Young Alumni of the Year
Robert
('07)
and Emily
('08)
(Kiddoo) Kelchen
Robert and Emily (Kiddoo) Kelchen met for the first time at a Truman visit day. Robert was working as a student ambassador, and Emily was looking at Truman as a prospective school. The next year, their paths crossed again, and they became fast friends.
Robert and Emily worked on political campaigns and debated policy with fellow College Republicans. They spent countless hours together serving in Student Government – Emily as the student representative to the Board of Governors and Robert as the lead author of the student vision document. Eventually, a mutual friend asked why they had never dated, and they didn't have a good answer. They gave it a try, and the rest is history. They continued on to graduate school together at the University of Wisconsin-Madison where Emily pursued a law degree and Robert a doctorate in education policy.
Today, they live in New Jersey where Robert works as an associate professor of higher education at Seton Hall University. He is a nationally known expert in the areas of higher education finance, accountability and college affordability. Emily founded a government affairs and marketing company that focuses on helping fellow attorneys attract new clients and lobby policymakers.
In their free time, the Kelchens enjoy traveling around the Northeast, rehabbing their 1861 Victorian home and streaming St. Louis Cardinals baseball games.
Robert and Emily Kelchen
Alumni of the Year
Terry
('68)
and Faye
('68)
Whitworth
Terry and Faye met late in their freshman year at Truman in 1965. Terry was a "local" who grew up 30 miles north of Kirksville in a little four-room farmhouse on a small farm with five younger siblings. Faye, a member of Delta Zeta social sorority, was an Air Force "brat" who had traveled the world and graduated from high school on a military base in Okinawa with a college scholarship.
Though Terry's major was zoology and Faye's was social science, they took many required classes together. Terry learned a lot from Faye about how to study and they spent many hours working together. They were married at the end of their sophomore year in 1966 at the age of 19, and they both graduated in 1968 with honors and with identical GPAs.
After graduation, Terry and Faye attended Utah State University. Terry earned a master's and Ph.D. in entomology while Faye earned two master's, one in history and one in education. Terry started his own business, Whitworth Pest Solutions, in 1981. At first, the business was a one-man operation, working out of the couple's garage. It quickly expanded and now, nearly 40 years later, has become one of the largest pest management firms in Washington state. Meanwhile, Faye took a job teaching high school social studies. She became president of her school district's teachers' union and was chief negotiator for her district for 10 years. She also spent many years as a trainer, helping teachers keep up with the frequent changes in the profession. She retired in 2006.
Terry retired from day-to-day operations in 2008 and has since set up a lab in his home where he studies his specialty: blow flies and their relatives. He has published 34 refereed papers and described 41 new species of blow flies and mesembrinellids. The couple regularly hosts visiting graduate students and professors who want to learn about blow fly identification, dissection and photographic techniques. On a 2009 insect collecting trip to the Caribbean, Terry found a new species of blow fly and, to recognize all Faye's support over the years, he named it after her – much to her delight –
Lucilia fayeae
. Last May, the couple celebrated their 53rd anniversary.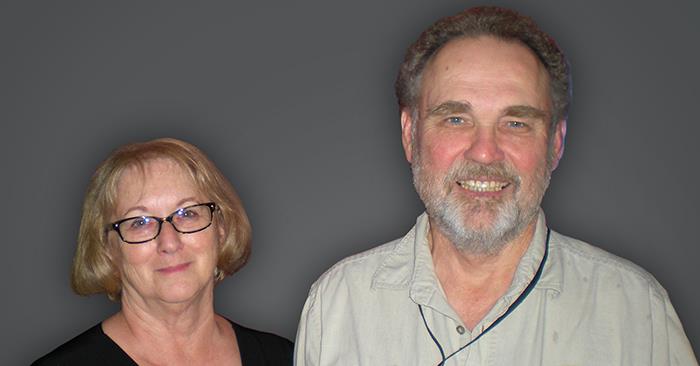 Faye and Terry Whitworth