Baseball Artist and Entrepreneur Returns to Campus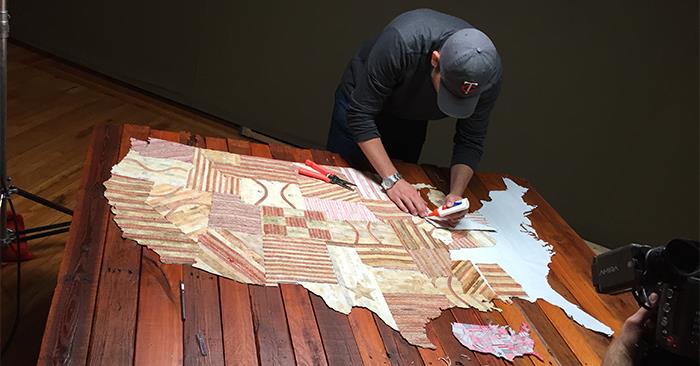 Alumnus
Nate Rueckert
('03) will visit campus Sept. 11 to offer advice to aspiring entrepreneurs, display his unique brand of art and share his inspiring story.
During his time at Truman, Rueckert started a hobby that would go on to become a profitable side business for him to this day. He uses baseballs to create one-of-a-kind pieces of art, which he sells to clients on commission and through his website,
BaseballSeamsCo.com
.
Four days out of the week, Rueckert uses the skills he learned at Truman while earning his accounting degree as a senior external financial reporting consultant for Wells Fargo Advisors. The fifth day is dedicated to the Baseball Seams Co., which he started in 2001 while he was still a student.
Rueckert has been a lifelong baseball fan, and he came to Truman, in part, to continue the sport in his collegiate years. He was a student during 9/11. He skipped his class that day and stayed glued to the television, trying to comprehend the tragic news as it unfolded. Like so many other Americans, Rueckert felt hopeful the following month when he saw the president throw out the first pitch during the World Series.
"For me, it was a moment that transcended sports," he said. "For whatever reason, the idea to make an American flag out of old, tattered baseballs popped into my head."
Rueckert has been making original works of art using baseballs as his medium ever since. In 2017, a five-foot wide map of the United States he crafted from balls was displayed at the Baseball Hall of Fame in Cooperstown, N.Y.
That same map will be on display in Pickler Memorial Library, along with several other original pieces, during a monthlong exhibit which begins Sept. 11. Rueckert will formally open the exhibit during a presentation at 7 p.m. that evening in the library's Presidential Reading Room. While he is on campus, Rueckert will also be visiting with classes in the School of Business to discuss his journey and offer insight to current students who may be interested in starting their own company.
Rueckert's presentation is open to the public, and there will be refreshments to follow.