Foundation Study Abroad Scholarships Awarded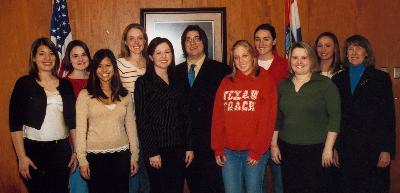 Front row, left to right: Martha Claeys-Jacobson, Stephanie Le, Dawn Runge, Aimee Gregor, Stacey Strange and President Barbara Dixon. Back row, left to right: Sunshine Wilson, Jacquelyn McCord, Joshua Baum, Jenna Kearns and Kristin Hohmeier.
The Truman State University Foundation awards ten $1,500 scholarships annually to students who are participating in a summer, faculty-led study abroad experience.
The students pictured have been selected as recipients in 2005 and will study abroad in various programs, including the Sacred Sites in Greece, Europe in Transition, Costa Rica, Greece/Italy tour and Salamanca, Spain summer abroad programs.
There are more than 350 foundation scholarships awarded each year. These scholarships are made possible through generous contributions from alumni, parents and friends of the University.
Applications for the majority of the Foundation scholarships are due by midnight on March 1 and are available at http://www.truman.edu by clicking on Current Students, Foundation Scholarships. For more information or questions, call the Office of Advancement at 785.4133.