Governor Appoints New Board Member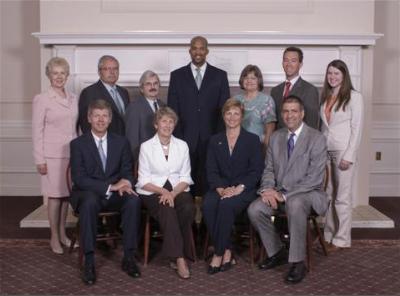 (Seated, left to right) Board of Governors member Mark Wasinger (vice chair), University President Barbara Dixon, Board of Governors members Randa Rawlins (chair), Thomas Jayne (secretary) (back row, left to right) Cheryl Cozette, Kenneth Read, Peter Ewell, Matthew Barnes, Wilma Maddox, Matthew Potter and Emily Kiddoo, gather for a photo prior to attending the Board of Governors meeting June 15.
Gov. Matt Blunt has appointed a new member of the Board of Governors to fill the expired term of Sarah Burkemper of Troy, Mo.
The appointment of Kenneth L. Read, a Kirksville businessman, will take effect immediately since the Missouri Senate is not in session.
Read graduated from Northeast Missouri State University in 1973 with a baccalaureate degree in business administration. He is a Vietnam Veteran who served in the United States Marine Corps from 1969-1971. Read is owner of Heritage House Realty, chairman of the board of American Trust Bank and has been a real estate broker for 35 years.