McGahan Earns NEMO Nurse of the Year Award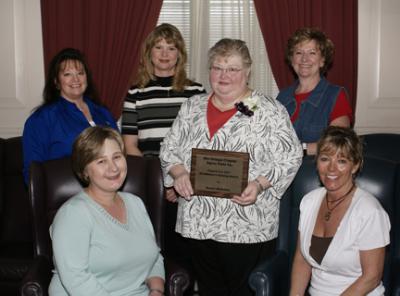 Sharon McGahan (center), assistant professor of nursing, received the 2007 Excellence in Nursing award. McGahan is pictured with the other nominees including (front row, left to right) Teresa Kirchner and Marilyn Mihalovich (back row, left to right) Julie Ruggles, Lori Drennan and Margaret Ernst. Nominee Barbara Rice is not pictured.

The Rho Omega Chapter of Sigma Theta Tau International announced its 2007 winner of the Excellence in Nursing award recently during the awards luncheon at Truman State University's seventh annual Capstones of Nursing. This is the third year that Rho Omega has promoted a "Nominate a Nurse from NE Missouri" campaign. The winner of the 2007 Excellence in Nursing award was Sharon McGahan, assistant professor of nursing at Truman State University.
The person who nominated McGahan pointed out that she has taught more than 800 nursing students during her 30 years at Truman State University. Her former students are now serving in various positions across the country and the world. McGahan's former students are serving in Iraq and Kuwait; as nurse leaders; in independent practices as nurse practitioners; and as nursing educators preparing other future nurses. Her impact is that of a snowball, gaining momentum as it rolls along, for each of her former students are now making their own contributions in nursing and in health care.
Other nurses who were nominated during the "Nominate a Nurse Campaign" include: Lori Drennan, R.N., flight nurse for Air-Evac in Kirksville; Margaret Ernst, R.N., Chief Nursing Officer for Northeast Regional Medical Center; Teresa Kirchner, R.N., head nurse for Memphis Medical Group; Marilyn Mihalovich, R.N., Department of Health & Senior Services; Julie Ruggles, R.N., Adolescent Unit at Preferred Family Healthcare; and Barbara Rice, L.P.N., with Kirksville Middle School. These nurses were recognized by patients or people in the public who have witnessed moments when they have made a difference in the lives of their patients. They too received honors at the Awards Luncheon for the seventh Annual Capstones of Nursing.
Rho Omega, as a chapter of Sigma Theta Tau International Honor Society of Nursing, strives to promote excellence in nursing practice, nursing scholarship, and nursing leadership throughout our community.