Theatre Class Performs One-Act Plays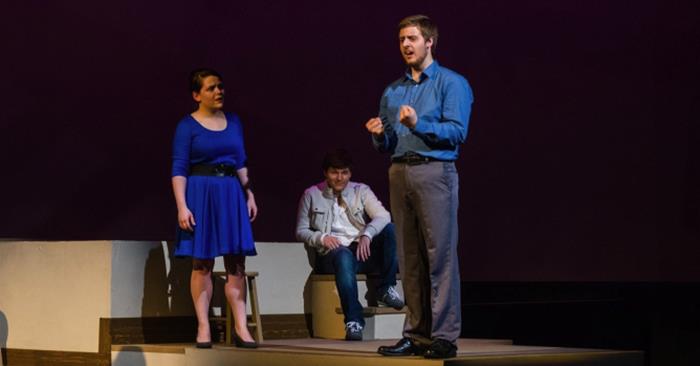 The Theatre Department will present the work of nine new directors from the play direction class at 8 p.m. May 1-3 in the James G. Severns Theatre.
Taught by assistant professor David Charles Goyette, the class directs plays from some of the best playwrights from around the country as a final assignment. The plays had to be published within the last 80 years, between 10-30 minutes in length and without heavy science, costume, light or sound effects.
These final productions represent a synthesis of numerous concepts explored in the course of the semester. Students explored composition and picturization techniques, scene analysis, how to develop a directorial approach and methods on how to work with actors.
The play direction course is required of all theatre majors in order to graduate. Admission is free for the one-act plays. For more information, contact
Goyette
.
May 1"In The Tank"
By: Rosemary Frisino Toohey
Directed By: Jacque Bischoff
What's it like to be peered at by hungry humans? Such is the predicament of two lobsters in a tank at a seafood restaurant.
"Brocreation"
By: Ashley Lauren Rogers
Directed By: Kameron McClinton
When Randy finds out his sperm is the catalyst for the future apocalypse and that his friends aren't who they seem, he has some choices to make and not all of them are good.
"Heat Lightning"
By: Robert F. Carroll
Directed By: Angel Lee
A young woman stumbles into a bus station, late at night and in the pouring rain. She is terrified, and must rely on herself for survival.
May 2"Sleep"
By: Adam Szymkowicz
Directed By: Molly Garrison
Darla has fallen into a mysterious coma and three of her friends are left alone to wonder what happened and if they are to blame.
"Regina Flector Wins The Science Fair"
By: Marco Ramirez
Directed By: Julia Swank
Middle schoolers Regina, Bradley, Tiffany and Sam compete (somewhat viciously) for first place at their school science fair.
"Captive Audience"
By: David Ives
Directed By: Nicole Dunseith
While watching TV, a couple tries to figure out what to do on a typical Friday night, but they can't seem to pull their attention from the screen.
May 3"Becky's Christmas Wish"
By: Ashley Lauren Rogers
Directed By: Faith Locke
Becky is encountered by a Christmas Elf on the night before Christmas. She gets one wish, but they are surprised with what she wants.
"The Ballad of 423 & 424"
By: Nicholas C. Pappas
Directed By: Lilian Ayers
When a new neighbor moves in next door, Roderick - a recluse - finally gets a chance to make a friend... if he can talk to her!
"Family 2.0"
By: Walter Wykes
Directed By: Sammi Berkelman
A man who is tired of his current life, finds a nice house and starts a new life with a "perfect" family.