CSI Presents Leadership Recognition Awards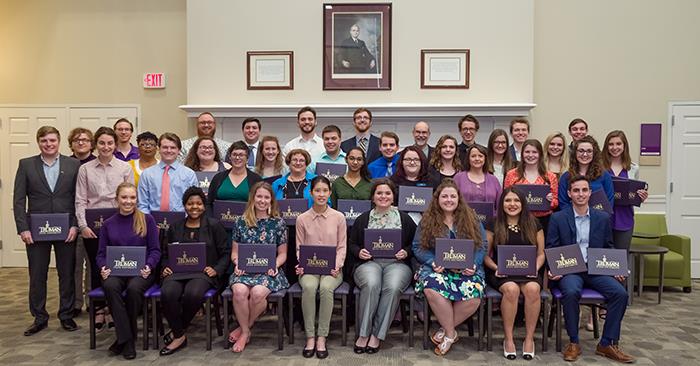 The Center for Student Involvement hosted the annual Leadership Recognition Program Banquet, April 18.
The Leadership Recognition Program is designed to honor Truman students, advisors and organizations for their dedication to their peers, campus and Kirksville community through various leadership roles during the year. This year the CSI recognized those students, organizations and advisors who have exemplified quality leadership during the 2018-19 school year by highlighting the accomplishments through the theme, Colors of Leadership.

Individual AwardsNicholas Thiele
, Athletic Leadership Award
Audrey Tomlinson
, Athletic Leadership Award
Emily Stobbe
, Excellence in Diversity Student Award
Tessa Gisi
, New Student Leader Award
Pujita Ravichandar
, Outstanding President of the Year (small organization)
Keaton Leppanen
, Outstanding President of the Year (large organization)
Heather Kopp
, Outstanding Student Worker Award
Grant Wilhelm
, Senior Leadership Award
Taylor Cichon
, Senior Leadership Award
Ben Wingo
, Senior Leadership Award
Katie Alexander
, Student Excellence Award
Je'lynn Tiberi-Ramos
, Student Excellence Award
Dan Borelli
, TLC Pass it Along Award
Haley Bylina
, TLC Pass it Along Award
Savanna Ott
, Verona S. and Davis Nichols Award
Will James
, Verona S. and Davis Nichols Award

Organization Awards Council for Special Olympics
, "Special Olympics," Creative Campaign Award
International Club
, Excellence in Diversity Organization Award
Student Activities Board
, "Kenan Thompson," Outstanding Entertainment Event Award
Student Government
, "TedX," Outstanding Educational Event Award
First Gen United
, Outstanding New Organization Award
Bulldog Student Investment Fund
, Outstanding Organization Award (small organization)
Delta Sigma Pi
, Outstanding Organization Award (large organization)
Advisor Awards Brad Turnball
, E.M. Violette Outstanding Advisor Award
Ken Carter
, E.M. Violette Outstanding Advisor Award

Center for Diversity and Inclusion Shania Montufar
, Rising Activist Award
Chantelle Wimm
s, Outstanding Advocate Award
Summer Pennell
, Bertha Thomas Outstanding Faculty/Staff Advocate Award

Omicron Delta Kappa Debra Cartwright
, Faculty Hall of Fame
Brenda Higgins
, Staff Hall of Fame
Ben Laser
, Student Hall of Fame
Residence Life Erin Woolf
, Gaber Achievement Award
Gloria Farmer
, Outstanding Residence Leader Award
Serve Center Delta Sigma Pi
, Outstanding Organization Award
Alpha Sigma Gamma
, Outstanding Service Organization Award
Taylor Cichon
, Outstanding Student Volunteer Award
Casey Cook
, Service-Learning Award

Student SenateJohnathon Rogers
, Shining Star
Women's Resource Center Summer Pennell
, Women of Distinction Award-Faculty
Carol Bennett
, Women of Distinction Award-Staff
Shania Montufar
, Women of Distinction Award-Student
School of Arts and Letters Alexandra Hult
, School of Arts and Letters Student Leadership Award
Greek Life Awards Sigma Phi Epsilon
, Academic Excellence Award
Sigma Kappa
, Academic Excellence Award
Beta Theta Pi
, Brotherhood of the Year Award
Sigma Sigma Sigma
, Sisterhood of the Year Award
Tom Binbeutel
, Emerging Greek Leader Award
Sydney Modaff
, Emerging Greek Leader Award
Sigma Phi Epsilon
, Outstanding Community Service Award
Delta Phi Epsilon
, Outstanding Community Service Award
Nick Rincom
, Greek Man of the Year Award
Emmy Robertson
, Cady Award
Joel Brumfield
, Outstanding Greek Chapter President Award
Mary Beth Howard
, Outstanding Greek Chapter President Award
Sigma Phi Epsilon
, Chapter of the Year Award
Sigma Sigma Sigma
, Chapter of the Year Award