New Board of Governors Members Appointed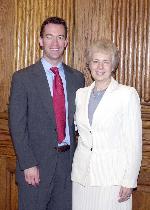 Matthew W. Potter and Cheryl J. Cozette
Gov. Matt Blunt has appointed two new members of the Truman Board of Governors to fill the expired terms of G. Ruth Mach of St. Louis, and Michael T. Schwend of Kirksville.
The full Missouri Senate confirmed the appointments of the Honorable Matthew W. Potter of St. Louis, and the Honorable Cheryl J. Cozette of Columbia, Mo.
Potter is the deputy democratic director for the City of St. Louis Board of Election Commissioners. His previous work experience included service as an associate attorney in the St. Louis law firm of Burroughs, Hepler, Broom, MacDonald, Hebrank & True, LLP and as an assistant circuit attorney for the Circuit Attorney's Office for the City of St. Louis. Potter graduated magna cum laude from Truman State University with a Bachelor of Arts degree in English and a minor in Latin in 1996. He received his juris doctorate from University of Missouri-Columbia School of Law in 1999 where he served on the UM Law Review and earned Order of the Coif honors. Potter is licensed to practice law in Missouri and Illinois. While at Truman he was involved with Lambda Chi Alpha fraternity and Order of Omega.
Cozette has had a long and distinguished career in public education. She has a baccalaureate degree in history from Kansas City College and Bible School, a master's degree in elementary education from the University Missouri-Kansas City, and a doctorate in educational administration from the University of Missouri-Columbia. She also completed advanced course work in educational administration at Truman.
She is a member of Phi Delta Kappa and Delta Kappa Gamma. She currently serves as the assistant superintendent for curriculum and instruction for Columbia Public Schools.