Art Gallery to Feature Aboriginal Work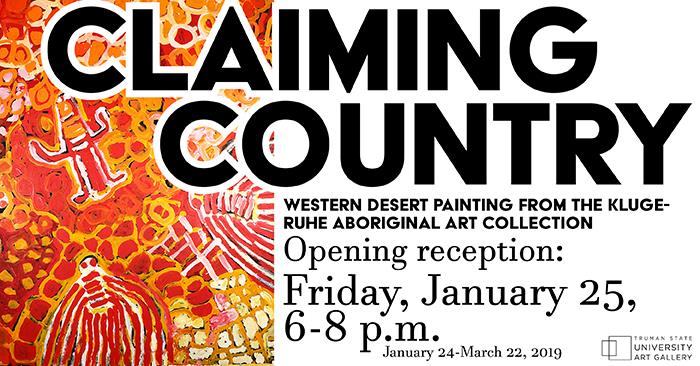 An exhibit featuring Aboriginal Australian art will be on display at Truman starting Jan. 24.
"Claiming Country: Western Desert Painting from the Kluge-Ruhe Aboriginal Art Collection," will be available for public viewing through March 22 at the University Art Gallery located in the Ophelia Parrish Building 1114. The opening reception will take place from 6-8 p.m. Jan. 25 and will feature free food and refreshments.
This exhibition features works by Aboriginal artists from the Western Desert, a region of rich culture located in central Australia. The featured artists include Pansy Napangardi, Makinti Napanangka, Weaver Jack, Harry Tjutjuna, Kathleen Petyarre, Tjumpo Tjapanangka and Paddy Japaljarri Sims. These artists bridge the gap between their traditional Aboriginal practices and the contemporary Western art world. Many of the pieces on display, on loan to Truman from the Kluge-Ruhe Aboriginal Art Collection at the University of Virginia, have been inspired by sacred locations in the Western Desert landscape and the rich, traditional ceremonies and cultures of these Australian peoples.
Several of the artists make use of acrylic and synthetic polymer paint on canvas or linen to create their works. There will be more information as well as interactives accompanying the works on display.
"Claiming Country" will run from Jan. 24 to March 22. The exhibition is free and open to the public. The University Art Gallery hours are Monday through Thursday 8:30 a.m.-7 p.m., Friday 8:30 a.m.-5 p.m., and Saturday from 12-4:30 p.m. The gallery is closed Sundays and during University breaks. For more information, or to set up a group tour, visit the Truman State University Art Gallery Facebook page,
facebook.com/tsuartgallery
, or contact
Heidi Cook
.