Theatre Department Presents Comedic Play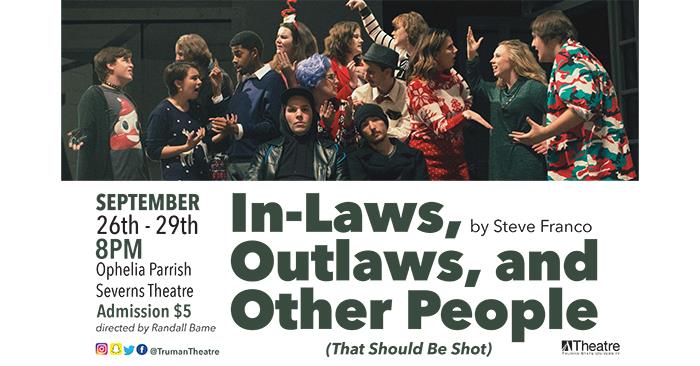 The Theatre Department's production of "In-Laws, Outlaws and Other People (That Should be Shot)" will be performed at 8 p.m. Sept. 26-29 in the James G. Severns Theatre in Ophelia Parrish.
The craziness of family get togethers around the holidays and other antics will be showcased in this comedic play. It is 6 p.m. and the Douglas family is busily preparing to be invaded by their quirky relatives for their annual Christmas Eve dinner. After robbing a neighborhood liquor store, high-strung and irritable Tony and his dim-witted sidekick Vinny find themselves in need of a place to briefly hideout. Using a ruse to gain entrance into the Douglas home, they suddenly find themselves in charge of an ever-growing list of family members they are forced to hold hostage. From smart-aleck teenagers to nosy neighbors and bickering adults, the laughs – like the flow of people – are non-stop, and the audience will wonder who is holding who hostage.
Tickets can be purchased for $5 in advance at the box office in Ophelia Parrish or by calling 660.785.4515.