Spirit Day Photo Contest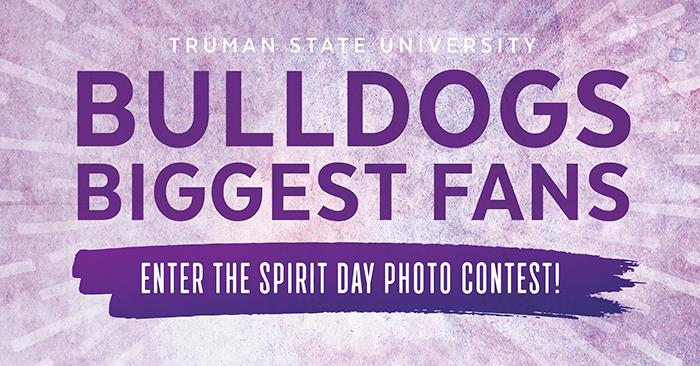 Celebrated on the first Friday of October, this year's Spirit Day is Oct. 5. Students, alumni, faculty, staff and friends are encouraged to wear purple or other Truman gear to show their support for the school. For those on campus, there will be a celebration in the Student Union Building from 11:30 a.m.-1:30 p.m., which will include free snacks, giveaways and photos with Spike. No matter where, fans can stay connected to the Bulldog Community by participating in Spirit Day and the "Bulldogs Biggest Fans" photo contest.
As part of this year's Spirit Day festivities, the "Bulldogs Biggest Fan" photo contest on Facebook offers a chance to win a VIP Homecoming Package. The package includes: four tickets to the Bulldog Forever tailgate; four tickets to the football game; four Truman Homecoming T-shirts; Bulldog Forever koozies; and one hotel room for Oct. 12-13. Bulldog fans can take the following steps to enter:
Step 1
: Take a picture displaying Truman pride in celebration of National Truman Spirit Day.
Step 2
: Send photos to
bulldogforever@truman.edu
by 11:59 p.m. during National Truman Spirit Day, Oct. 5.
Step 3
: All pictures will be uploaded to an album titled, "Bulldogs Biggest Fan 2018" published by the Truman State University Alumni
Facebook
page. Voting will take place from the morning of Oct. 6 to Oct. 10 at 5 p.m. The picture with the most "likes" and "shares" will win.
Each participant has an unlimited number of submissions.
For more information, visit the
Spirit Day website
.