Boeing Invites Students to Visit
Business and math and computer science students participated in career building activities including job shadowing, question and answer sessions and human resource presentations during a field trip to the St. Louis Boeing Company facility Feb. 19.
Eighteen students were accompanied by Jon Beck and Alan Garvey, associate professors of computer science, and Renee Wachter, dean of business.
The group was hosted by various Truman alumni who work for Boeing, which employs nearly 240 Truman graduates.
The company has been very supportive of the University's business and math and computer science divisions through making substantial contributions to grant and scholarship programs.
The trip was partially funded by the Truman STEP program for talent and expansion in the science and mathematics disciplines.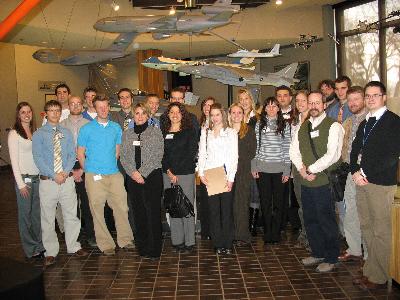 Pictured are Truman students, faculty and alumni who participated in the Truman Visit Day at Boeing Company in St. Louis Feb. 19.