Lyceum Series Presents Celtic Rock Band from Kansas City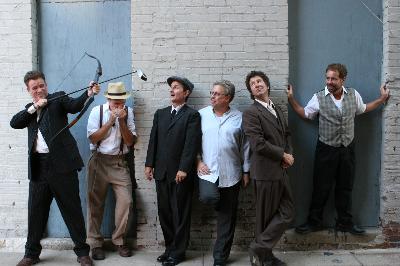 The Elders

The 2006-2007 season of Truman's Kohlenberg Lyceum Series continues with The Elders at 7:30 p.m. Feb. 20 in Baldwin Auditorium.
The Elders are a Celtic/rock band from Kansas City, Mo., which was formed in 1998. The band has brought their musical mix of amped-up roots rock, powerful vocals, and blazing instrumentals to festivals, pubs and theaters across the United States and Ireland.
The Elders are fronted by Irishman, Ian Byrne from County Wicklow, and backed by a group of Kansas City musicians. Band members include guitarist Steve Phillips, bassist Norm Dahlor, violinist Brent Hoad, drummer Tommy Sutherland, and keyboardist Joe Miquelon. All are well-known veteran musicians having played in numerous recording and touring bands prior to forming The Elders.
The Elders released their fourth studio album, "Racing the Tide," in 2006.
The band tours as headline performers across the country at Irish Festivals.
The group will wind up their fourth tour of Ireland in March 2007.
Tickets for the performance are free to all students, faculty and staff, and are available beginning Feb. 13. Tickets for faculty and staff are available in the Center for Student Involvement, and students may pick their tickets up in the Student Activities Board office. The University requests that all patrons be seated five minutes prior to the performance. The University reserves the right to fill all seats, reserved and general admission, five minutes before the time of performance stated on the ticket.
Call 785.4016 for more information.