Students Take Research to State Capitol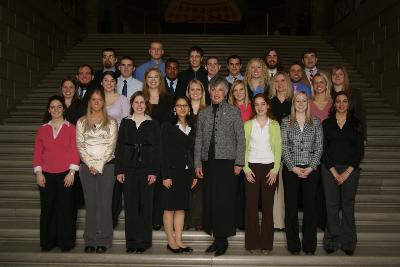 Pictured front row, left to right: Jamie Matthews, Brooke Hamilton, Jill Scognamiglio, Nohemi Alvarez-Landa, Rep. Rebecca McClanahan, Teresa Kerbawy, Shanna Foster and Miriam Savabi. Second row, left to right: Amanda Groebl, Laura Halfmann, Loretta Palmer, Maddie Schill, Kristen Overson, Meagan Batson and Megan Hasse. Third row, left to right: Josh Kelly, Keith Trivitt, David Bonner, Michael Landrum, Cari Brummit, Jaret Copeman and Rachel Goldammer. Fourth row, left to right: Zach Monroe, Steven Webb, Christopher Peterson, Sean Lowery, Adam Gouge and Ryan Hart.

The University took 27 students to Jefferson City Jan. 31 to present their research to Missouri's legislators. The poster presentations were part of Truman's Capitol Appreciation Event.