Distinguished Scholar to Speak on Campus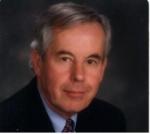 James N. Giglio
James N. Giglio, distinguished professor emeritus of history of Missouri State University, will speak at the 16th annual Barbara Early-Vreeland Lecture.
Giglio will speak on the topic of "My Odyssey with John F. Kennedy" at 7 p.m. Feb. 7 in the Student Union Building Alumni Room.
He has devoted a great deal of attention to the Kennedy presidency. His contribution to the American Presidency Series recently appeared in its second edition, "The Presidency of John F. Kennedy."
Having attained degrees from Kent State University and his Ph.D. from Ohio State in 1968, he began a career of teaching, researching and service at Missouri State University. He retired in 2006.
Giglio has published widely on 20th century U.S. history, particularly on sports and politics, including seven books and many articles. He also served on the editorial board of
Presidential Studies Quarterly
.
Joseph Vreeland established the Barbara Early-Vreeland Lecture series in memory of his wife who graduated from the University in 1973. This series allows the Truman community the opportunity to hear public lectures by scholars of international reputation.
Contact Mark Hanley at 785.4089 or
ss04@truman.edu
or Tom Zoumaras at 785.4095 or
zoumaras@truman.edu
for more information.