Celebrating 150: The Bell Wall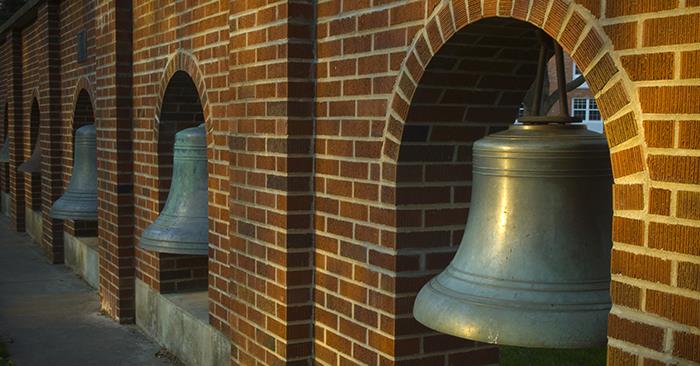 Between Missouri Hall and the quadrangle stands a brick wall housing a row of five bells. This campus landmark, known most commonly as the bell wall, was added to campus in the 1960s. Though students, faculty, staff and alumni regularly pass by the wall, few know the history behind the five bronze bells.
Joe Burdman, an enthusiastic participant in local civic and philanthropic affairs, donated the bells to the University. Born in southern Russia, he left the country to flee the Czar's army during a very tumultuous time. On Dec. 14, 1913, he immigrated to the United States and was reunited with his fiancé who had also emigrated from Russia. They were married and settled in Burlington, Iowa. With only $127 to his name, Burdman purchased a horse and wagon and began buying and selling scrap metal. The business enterprise was known as the J. Burdman Iron and Metal Co. In 1921, Burdman and his wife, along with their two sons, came to Kirksville, after being told, "a veritable gold mine was to be found there." He expanded his business, buying wrecked cars and selling auto parts and accessories. On March 1, 1921, J. Burdman Auto parts came into existence.
Burdman was active in the Kirksville community and served as president of the Kirksville Rotary Club, president of the Kirksville Chamber of Commerce, and became the mayor of Kirksville in 1960. He was known for being a very civic-minded person, who wanted what was best for the community. In 1967, Burdman donated the historic bells, which were collected from abandoned churches, schoolhouses and public buildings in northeast Missouri. Each bell was meant to represent the ideals of liberty, justice, religion and education.
The funds to build the wall which houses the bells were provided in large part by contributions from Truman's spring and summer classes of 1967.