University Conference to Focus on Liberal Education and Civic Engagement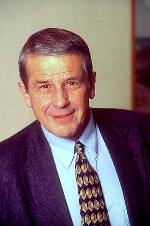 Truman's fifth annual University Conference will take place from 8 a.m. to 4:30 p.m., Feb. 16. "Liberal Education and Civic Engagement" is the theme for the day.
Faculty and staff will attend discipline action plan meetings and staff meetings from 8-9:45 a.m. in each division's designated location. Registration for all others participating in the conference or for those who have not pre-registered will be from 9:30-10 a.m., in the Baldwin Hall Lobby.
University President Barbara Dixon will offer a welcome and introductory remarks at 10 a.m., in the Baldwin Auditorium. Following this, Donald Harward will give the keynote address and Baldwin Lecture on liberal arts and democracy. This is the first time that the Baldwin Lecture has taken place during the University Conference. Harward is a senior fellow with the AAC&U for Liberal Arts and Civic Engagement. He served as the president of Bates College in Lewiston, Maine, until 2002, and was recently named a president emeritus. Harward is a frequent consultant to professional discussions involving institutional planning, research and liberal education, service learning, education and civic engagement as well as the financing of higher education.
After the Baldwin Lecture, the first breakout sessions will begin at 11:30 a.m. Students, faculty and staff can choose to attend discussions related to a variety of educational topics. See http://vpaa.truman.edu/communications/universityconference/2005/breakout.pdf for a complete listing of the session topics, locations and facilitators.
A buffet lunch is scheduled at 12:15 p.m., in the Student Union Building Georgian Room following the first sessions. A reservation is required for the luncheon.
From 1-1:45 p.m., Harward will give a follow-up speech on "Liberal Arts Citizenship at Truman," in the Student Union Building.
All conference participants are invited to the Technology Fair in the afternoon on the day of the conference. See Page 2 for more information about items on display at the Tech Fair, which will take place from 1-4 p.m. in the Student Union Building Alumni Room.
The second and third breakout sessions will be from 2-2:45 p.m., and 3-3:45 p.m. respectively.
Finally, faculty, staff and students will have an opportunity to socialize and reflect on the day's activities at "Coming Together as a Community." This culminating discussion will be from 4-4:30 p.m., in the Student Union Building Down Under.