Truman Student Contributions Push the United Way Campaign Above the Goal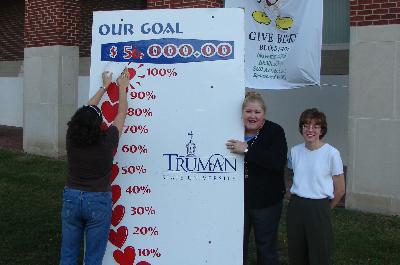 Nicole Asal (left), Truman's United Way student drive chair, places the final heart on Truman's United Way progress board recently while campus campaign co-chairs Lesa Ketterlinus (middle) and Teresa Heckert (right) look on.

As of Nov. 8, Truman faculty, staff and students have met and exceeded Truman's goal, set by the United Way board.
Contributions by Truman students, via the donation of meal blocks, commonly referred to as the Food Fast, allowed Truman's campaign to reach and surpass its goal. At last count, the campaign has raised and/or pledged $56,180.86 to support the United Way of Adair County.
Campaign leaders thank everyone who contributed time and money. Through these efforts, the 13 area agencies will be able to provide much needed support to the community.