Nursing Graduates Recognized at Annual Ceremony
Truman's Nursing Recognition Pinning Ceremony took place May 12 at the Catholic Newman Center.
Thirty-four senior nursing students were recognized for their accomplishments. The ceremony marks the graduating students' successful completion of a rigorous academic and professional program. The graduates received Bachelor of Science in Nursing degrees during Truman commencement ceremonies May 13 and will become registered nurses after passing the NCLEX-RN examination.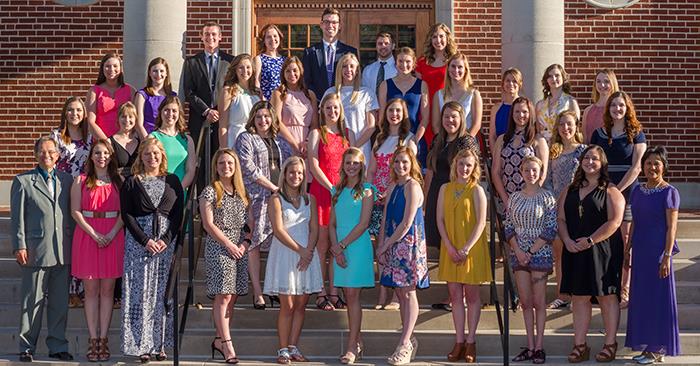 Pictured, first row, left to right: faculty member Stephen Hadwiger, Julia Walther, Michaela Walsh, Lauren Smith, Kelsey Hamel, Ashley Coe, Hollie Urbeck, Mickenna Broman, Sierra King, Ashlee Thompson and faculty member Kit Hadwiger. Second row: Jessica Griffin, Aubrey Fulton, Holly Troyer, Nina Flynn, Rebecca Atchley, Kate Heman, Emily Coe, Kaleigh Wagoner, Laura Tarantino and Erin Jones. Third row: Maureen Hoffbeck, Catherine Daugherty, Taylor Marshall, Larissa Gunter, Kathryn Livengood, Sydney Cornett, Hannah Hopson, Scarlett Warner, Ashley Moll and Sara Aiken. Fourth row: J. Trent Hoover, Sandra Dostalik, John Collins III, Cory Bloom and Erin Fisher. Not pictured: Danika Rodriguez.