Repeat Winner in Bulldog B.I.T.E. Competition
William Fries, a senior computer science and business double major, won the 2017 Bulldog B.I.T.E. elevator pitch competition in April.
This is the second year for the event. Fries also took the top spot last year. As the winner, he earned a prize of $3,000 for his immediate photo encryption concept.
Isaac Speed, a computer science major, earned second place and $2,000 for his pitch of a notification app for individuals struggling with depression. The team of Basanta Khadka and Babin Shrestha finished third and won $1,000 for their pitch of environmentally friendly disposable plates and bowls made from leaves.
An elevator pitch outlines the concept or idea for a product, service or project in a short period of time, typically from 30 seconds to three minutes. The length of the pitch mirrors the time spent waiting for and riding an elevator in a high-rise building. The purpose of the pitch is to spur the interest of a potential investor or financial backer.
Bulldog B.I.T.E., which stands for Business Innovation by Truman Entrepreneurs, allowed participants to pitch a for-profit or not-for-profit concept. Judges selected six teams to attend the live pitch competition April 7 in the Student Union Building on Truman's campus to present their concept to a panel. Contestants were judged based on the problem, product/service solution, market, competition, value creation, seed money, a Q&A session and the presentation of the concept.
The final round judges for Bulldog B.I.T.E. were alumni Amanda Gioia ('93), Marco Ilardi ('99), Chris LeBeau ('05), Cody Sumter ('10) and Bryan Witherbee ('94). The first round judges for the competition were alumni Amy Gryder ('97) and Ron Thomas ('65).
Alumni Doug ('94) and Diane ('95) Villhard, along with Mastercard, sponsored the 2017 Bulldog B.I.T.E. competition.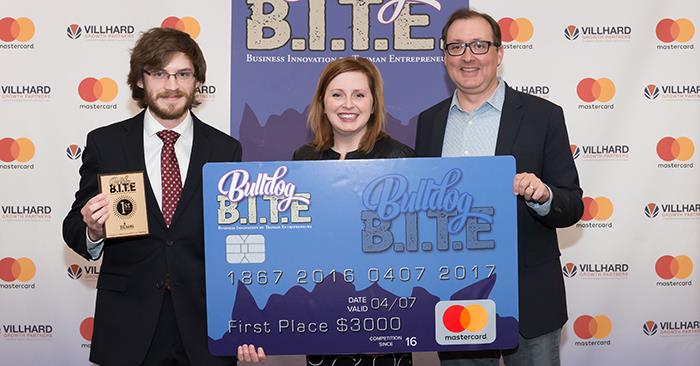 William Fries, left, accepts the first place award for the 2017 Bulldog B.I.T.E. competition from Amanda Gioia of Mastercard and Doug Villhard of Villhard Growth Partners.