Pitch Contest Returns with Cash Prizes of $6,000
This semester an elevator pitch contest named Bulldog B.I.T.E. could win aspiring entrepreneurs more than just bragging rights as the contest offers a top prize of $3,000.
An elevator pitch outlines the concept or idea for a product, service or project in a short period of time, typically from 30 seconds to three minutes. The length of the pitch mirrors the time spent waiting for and riding an elevator in a high-rise building. The purpose of the pitch is to spur the interest of a potential investor or financial backer.
Bulldog B.I.T.E., which stands for Business Innovation by Truman Entrepreneurs, is open to any student or team of students — up to three members — enrolled during the 2017 spring semester. A student or team may submit only one pitch concept for the contest. Participants may pitch for-profit or not-for-profit concepts.
Students will submit a concept or idea for products, services or solutions to problems facing humanity in a video pitch no longer than two minutes by 11:59 p.m. March 6. The video should not include any props, except the product prototype, and should be one continuous shot. The video submission should include: name of the individual or team members; problem or issue being addressed by the concept; product description; target market; competitive advantage of the concept; value creation; and expected future use of prize money.
Judges will select six finalists to present their pitch to a live panel of judges, April 7. The top three finalists will receive cash awards: the cash prize for first place is $3,000; second place is $2,000; and third place is $1,000. Pitch participants, judges, alumni and audience members are then invited to a networking event following the competition.
The Bulldog B.I.T.E. is sponsored by Villhard Growth Partners and Mastercard. On campus promotion is provided by the Career Center.
For complete details and entry information,
click here
.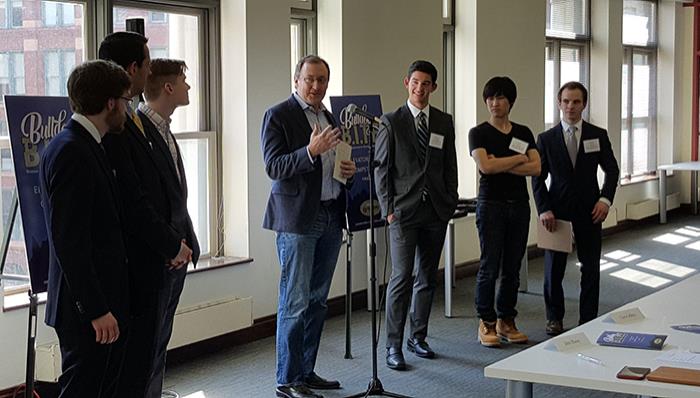 Alumnus Doug Villhard (center) talks with the finalists of the first Bulldog B.I.T.E. elevator pitch competition in March 2016. The competition is returning for the spring semester, and student entrepreneurs will compete for $6,000 in total prizes.