Art Gallery Reception Kicks Off World War I Exhibits
In commemoration of the World War I centennial anniversary, the Truman State University Art Gallery and Pickler Memorial Library's Special Collections Department have collaborated on two interrelated exhibitions that will run Jan. 26 through March 3.
The aim of the two exhibits is to examine art produced during the Great War — both art supporting and also protesting the war — and to allow visitors to explore all the ways in which societies have been changed by this major event.
A special reception celebrating the opening of the exhibitions will take place from 5-7 p.m. Jan. 27 in the University Art Gallery located in Ophelia Parrish. All are invited to come enjoy a snack and see the exhibition.
The larger gallery space will feature "Join, Save, Buy: U.S. World War I Posters on the Home Front," an exhibition of works from Special Collections' significant body of World War I posters. Obtained during the war years by faculty member E.M. Violette, the Truman collection consists of 500 political posters and related materials. From this collection, faculty members from across campus selected 50 posters to be displayed. With accompanying labels written by students in Jason McDonald's fall 2016 course "America During the Age of the World Wars," these posters provide an opportunity to view samples from one of the major historical marketing endeavors of the U.S. government and to recognize the impact of the war on American citizens, both at home and abroad. This exhibition was generously supported by funds from the Missouri Arts Council.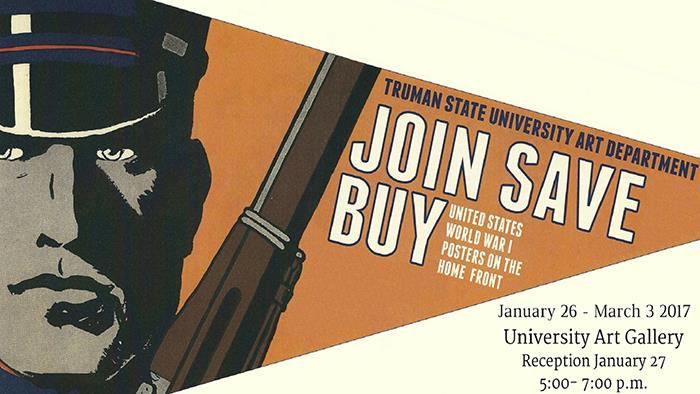 The exhibition in the side gallery, "Arts Against the Great War," looks at works of visual art, music and literature as well as archival materials including letters from soldiers that explore the war's complications, violence and human cost. Many of the works in the exhibition are generous loans from local and area collectors; others are from the International Dada Archive in Iowa City and from Truman's Special Collections. Works from the Dada movement and by artists such as Käthe Kollwitz, first editions of literature such as "In Flanders Fields" and "All Quiet on the Western Front," and letters from soldiers, as well sheet music and objects associated with soldiers' daily lives, combine to comment on and explore the endurance, suffering, sacrifice, grief and loss associated with this war. "Arts Against the Great War" was researched, curated, written and arranged by 25 students in Julia DeLancey's fall 2016 course, "Topics in Art History: Dada and World War I." The exhibition was generously supported by funds from the Friends of the Gallery.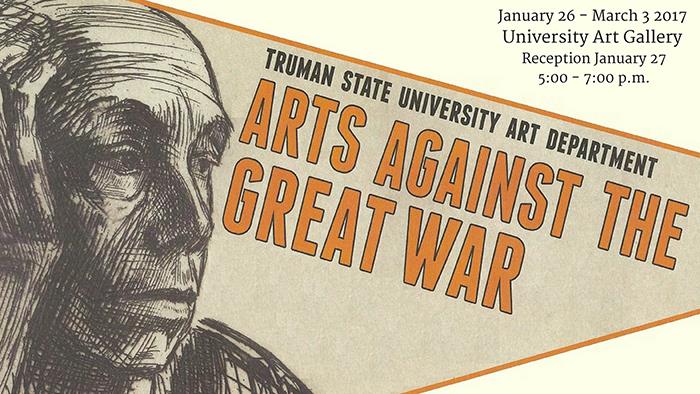 For more information, visit
facebook.com/tsuartgallery
.