Truman Board of Governors Approves Enrollment Fee Increase and Elects Officers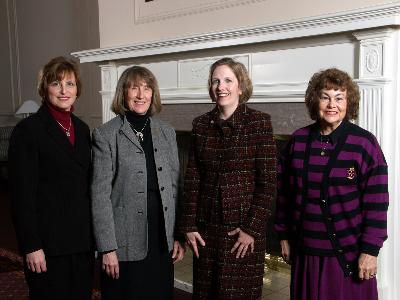 The Truman Board of Governors new officers Secretary Randa Rawlins (left), President Sarah Burkemper (third from left), Vice President Ruth Mach (right) are pictured with Truman President Barbara Dixon (second from left).
The Truman Board of Governors approved an increase in tuition of 4.9 percent for Missouri undergraduates and 3.6 percent for non-Missouri undergraduates for the 2005-2006 academic year at the Feb. 5 meeting held on campus.
In-state enrollment fees for full-time students will be $5,740, and out-of-state costs for full-time students will increase to $9,920. When combined with the designated fees, the tuition cost per semester for undergraduates in 2005-2006 would increase $165 (+6.0 percent) for Missourians and $205 (+4.3 percent) for out-of-state residents.
The Board approved continuing the $95 per semester Student Recreation Center fee, an $80 per semester Student Union fee, a $32 per semester student activity fee and a $2 per semester fee to support student government.
The Board set the room and board fee for 2005-2006 at the December 2004 Board meeting. It will cost $5,540 per student for a two-person room at Ryle/Centennial, $5,380 per student for a two-person room at Missouri/Dobson/Grim and $5,455 per student for a two-person room at Blanton/Nason/Brewer.
Sarah Burkemper from Troy, Mo., was selected as president and Ruth Mach from St. Louis was selected as vice president and Randa Rawlins was selected as secretary.
Burkemper is serving in her third term as the public administrator for Lincoln County and is a certified public accountant in Troy, Mo. She was first elected as the public administrator in 1996. She was re-elected in 2000 and 2004. She became a registered guardian in 2000. Burkemper was a Pershing Scholar and graduated cum laude with two bachelor's degrees from Truman in 1992. She also received a master's in accountancy from Truman and a master's in international affairs from Washington University in 1997.
Mach recently retired, after 20 years of service, as principal of Meramec Elementary School in the Clayton, Mo., School District. She is now serving as an elementary assistant superintendent with the St. Louis Public Schools and working part-time for the Clayton School District, serving as a specialist in the Human Resources department. A graduate of Truman State University, she earned her master's degree from the University of Missouri-Columbia and her doctorate from Saint Louis University.
Rawlins is general counsel at Shelter Insurance Companies in Columbia, Mo. Rawlins, a Pershing Scholar at Truman, graduated summa cum laude in 1979. She received her juris doctorate from the University of Missouri-Columbia School of Law in 1982. She serves on the Association of Governing Boards of Universities and Colleges Council of Board Chairs.