Notables
Brian Jacob
,
GTRA of education
, was selected to participate in a workshop sponsored by the German Academic Exchange Service. The service paid for his participation, travel and stay in Chicago Nov. 11-13 during the professional development opportunity at the Goethe Institute.
Judicial Archives Project interns
Melanie Dippold
,
Starlight Katsaros
,
Kymberly Maine
and
Hannah Stilley
toured the Missouri State Archives Nov. 3 in Jefferson City. Students met conservators and other archivists and attended demonstrations in the conservation laboratory.
Mary McIntosh
, the field archivist responsible for running the Records Preservation Program in northeast Missouri, and
Jason McDonald
, history internship coordinator, accompanied the students.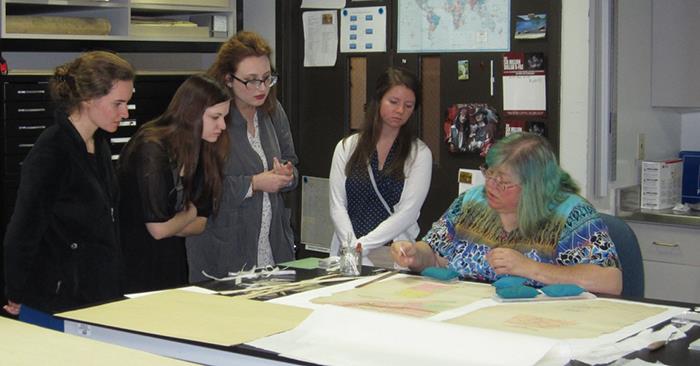 Truman students (from left) Starlight Katsaros, Kymberly Maine, Hannah Stilley and Melanie Dippold witness a demonstration of techniques used in the Missouri State Archives conservation laboratory.