"Boeing Day" Connects Students with the Company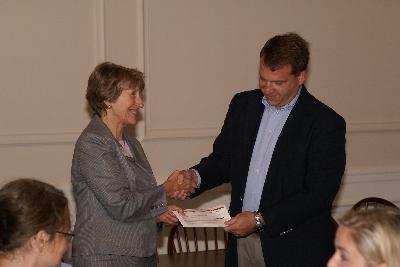 Chuck Woods, director of financial operations for The Boeing Company, presents President Barbara Dixon with a $50,000 gift. Boeing is Truman's second largest corporate donor.

Students interested in exploring career opportunities with The Boeing Company received an inside look during the second annual "Boeing Blitz Day" held Oct. 3 on campus.
A dozen representatives of The Boeing Company, virtually all Truman alumni, spent the day interacting with students and faculty in the Divisions of Business and Accountancy and Math and Computer Science.
Class presentations by Boeing officials included topics such as planning and budgeting, developing leadership qualities, branding and business development, information technology and career opportunities with the company.
"'Boeing Day' is designed to offer the firm greater access and visibility with our students," said Renee Wachter, dean of Business and Accountancy. "It also provides an opportunity for our students to learn from alumni, and for the University to extend our thanks for a great corporate partnership."
Nearly 240 alumni are employed with Boeing, in areas such as finance and accounting, information technology, supplier management and procurement, and software engineering.
Boeing is also rapidly climbing the University's cumulative gift charts. The company presented President Barbara Dixon with a $50,000 gift during its visit to campus, designated for student scholarships and a pilot project to redesign and strengthen the Master of Education in Teaching program.
Truman is one of 10 schools in the United States selected by Boeing for a special grant to further its pre-service education program.
Boeing is Truman's second largest corporate donor and ranks among the University's top 10 largest donors with nearly $270,000 in cumulative giving.