Bulldog B.I.T.E. Winners Announced
William Fries, a junior computer science major, won the first-ever Bulldog B.I.T.E. elevator pitch competition and earned $3,000.
Fries won for his pitch of a small USB security device for protecting digital data, such as emails, passwords or encryption keys. The product keeps data offline and securely encrypted, while still allowing for easy access with a short pin.
Anthony Hill, a junior accounting major, won second place and $2,000 for SpiroRip, a notebook ripping device. Stephen Cutler, a junior business administration major, received third place and $1,000 for Lily Luggage, a luggage concept that combines motorized wheels with Bluetooth technology.
An elevator pitch outlines the concept or idea for a product, service or project in a short period of time, typically from 30 seconds to three minutes. The length of the pitch mirrors the time spent waiting for and riding an elevator in a high-rise building. The purpose of the pitch is to spur the interest of a potential investor or financial backer.
Bulldog B.I.T.E., which stands for Business Innovation by Truman Entrepreneurs, allowed participants to pitch a for-profit or not-for-profit concept. Judges selected six teams to attend the live pitch competition March 31 in St. Louis to present their product to a panel. Contestants were judged based on the problem, product/service solution, market, competition, value creation, seed money, a Q&A session and the presentation of the project.
The judges for Bulldog B.I.T.E. were alumni Stacey George ('00), Amanda Gioia ('93), John Haney ('01), Chris LeBeau ('05) and Kevin Tibbs ('95).
Bulldog B.I.T.E. was sponsored by Truman alumni Doug ('94) and Diane ('95) Villhard.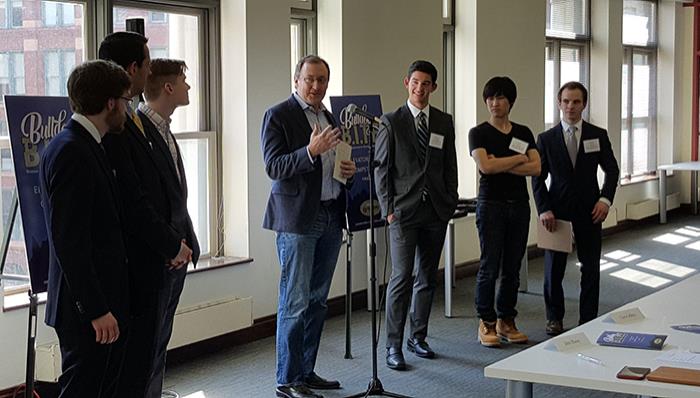 Alumnus Doug Villhard (center) talks with the finalists of the Bulldog B.I.T.E. elevator pitch competition. The finals took place in St. Louis, March 31, with several Truman alumni serving as the judges.