Study Abroad Ambassadors Available to Assist Students
Christopher Hooper, Jenny Kuhn, Chelsea McCoy and Michelle Quinn have been selected as the spring 2016 study abroad ambassadors.
With approaching deadlines for study abroad programs, many students are faced with questions about studying abroad such as "Which university is best for my subject area?" "Can I get by if I don't speak the country's language?" and "How do I apply for a visa?"
Hooper, Kuhn, McCoy and Quinn are here to help. They were chosen among other applicants who have studied abroad and will act as representatives of the Truman Study Abroad Office.
The ambassadors work to give study abroad returnees the opportunity to share their experience with their peers after having studied, lived and traveled abroad. Some of their responsibilities include organizing outreach efforts and promotional events, presenting to student groups and assisting the Study Abroad Office with activities throughout the semester. They will also lead the Study Abroad Club to help get students excited about traveling abroad and promote information and advice to those who are looking to study abroad in the future.
To learn more about the ambassadors, visit
studyabroad.truman.edu/ask-the-ambassadors
.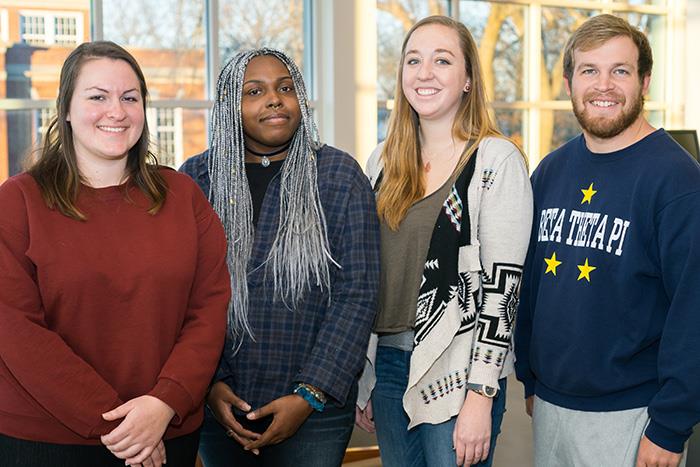 Students (pictured left to right) Jenny Kuhn, Chelsea McCoy, Michelle Quinn and Christopher Hooper were selected to serve as study abroad ambassadors.