Slocum to Speak at August Commencement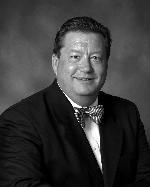 Dr. Philip Slocum
Dr. Philip Slocum will deliver the commencement speech at 6:30 p.m., Aug. 4, on the Quadrangle. The commencement rain site is Baldwin Auditorium. About 114 undergraduate and 85 graduate students have been cleared to march during the commencement ceremonies. In addition to these graduates, Truman will have 14 golden alumni, who graduated from 1956 and earlier, participating in the ceremony. About 50 people will attend the Golden Alumni Reunion luncheon at 12:30 p.m. in the Student Union Building Lounge (201). A reception for all graduates will follow commencement on the Quadrangle.
Slocum is professor of medicine and vice president for medical affairs and dean at Kirksville College of Osteopathic Medicine - A. T. Still University of Health Sciences. He graduated from Northeast Missouri State University in 1973 and the Kirksville College of Osteopathic Medicine in 1976. He completed a residency in internal medicine at the Osteopathic Hospital of Maine and a fellowship in Pulmonary & Critical Care Medicine at Maine Medical Center, both in Portland, Maine. He was the first D.O. trained at Maine Medical Center and he was their first Critical Care Medicine Fellow. He holds distinguished Fellowship Titles in the American College of Chest Medicine, American College of Osteopathic Internists, and the American College of Critical Care Medicine.
Slocum taught at the University of New England from its founding in 1978 and became chair of the department of medicine and associate professor of medicine in 1982. He was recruited to the Division of Pulmonary & Critical Care Medicine at the University of North Texas Health Sciences Center in Fort Worth, Texas in 1988. He was chief of the Pulmonary Critical Care Medicine Division. He has received many distinguished teaching awards during the years.
At the University of North Texas associated hospital, Slocum was director of the Critical Care Medicine Services, associate director of Hyperbaric Medicine for Critical Care Medicine, director of the Departments of Respiratory Therapy, Sleep Medicine, Pulmonary Diagnostics, and he served on many committees.
Slocum performed research documenting the effects of directly observed therapy on treating patients infected with tuberculosis. This research resulted in an article that appeared in the prestigious
New England Journal of Medicine
. Authorities in tuberculosis sited this paper as "the most significant work on tuberculosis in the last half of the 20th Century." This research caused the World Health Organization to use directly observed therapy as the standard for treating tuberculosis worldwide.
Slocum's research interests have shifted to medical education and to improving the access and quality of health care to rural Missourians. The Missouri Foundation for Health awarded KCOM and associate hospitals and agencies a $1 million grant to improve access and quality care to rural northeast Missourians. Slocum is the physician director of the project.
Slocum returned to Kirksville five years ago as the associate dean for academic affairs at KCOM-ATSU. In the fall of 2004 he started his current position.