Alumni to be Honored at Banquet
Several Truman alumni will be recognized at the Alumni and Friends/Hall of Fame Banquet at 6 p.m. Oct. 10 as part of the Homecoming 2014 celebration. Each week the Truman Today will profile different award honorees. This week looks at the Bulldog Forever Volunteer of the Year and the Young Alumni of the Year.
Michael A. Wilson ('91)
Bulldog Forever Volunteer of the Year
Originally form Odessa, Mo., Mike Wilson lives in Kansas City, Mo., with his family. He graduated with a Bachelor of Arts degree in finance in 1991. While working toward his degree, Wilson was an active member of Sigma Tau Gamma and served as their representative on the Interfraternity Council. He participated in the Missouri Government Internship Program, was a member of Student Senate, participated in multiple intramural sports and met his wife!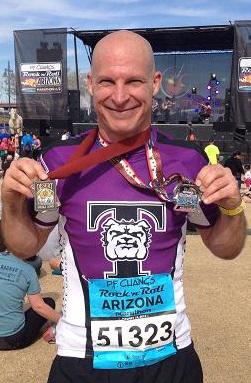 Mike Wilson
Since graduating from Truman, he has held various positions in the financial services industry and is currently in his 11th year at UMB Bank. Wilson says he finds fulfillment through encouraging and developing others to their potential and creating process and procedures to help maximize performance utilizing efficiency and logistics. As a senior loan review officer, he assesses credit quality and policy adherence of the institutions loan portfolio. He also takes a "value-added" approach and helps business lines with strategic planning, reporting and process improvements.
Wilson has been serving the Kansas City Alumni Chapter of Truman since 2000 in various leadership roles including currently as president. Additionally, he is vice chair on his Parish Finance Committee, a member of the Parish Men's Club and teaches Parish School Religion. Wilson is a member of the Risk Management Association, an ambassador for the Kansas City Corporate Challenge, American Royal and the employee wellness program. In his spare time, he trains and competes in marathons and triathlons.
Wilson has been married 22 years to Terri (Lyle) Wilson and enjoys spending time raising their four boys.
Ryan Shreve ('02) and Lauren (Rase) Shreve ('03)
Young Alumni of the Year
Ryan Shreve is the chief financial officer for FireMon, a security technology firm based in Overland Park, Kan. Ryan recently joined FireMon after seven years in various management positions at Garmin International, most recently serving as the controller with oversight of the financial consolidation of more than 50 global entities. Previously, Ryan worked as an auditor for the public accounting firm Ernst & Young in Kansas City.
Ryan is a 2002 graduate, earning a Bachelor of Science degree in accounting. He also earned his Master of Accountancy from Truman in 2003. While at Truman, Ryan was active in Blue Key, Beta Alpha Psi, Order of Omega and Sigma Tau Gamma, serving as president and vice president of finance. Ryan studied abroad with the Missouri-London Program and participated in the Europe in Transition Program.
Currently, Ryan serves as a member of the Accounting Advisory Board for the School of Business. He has served as the treasurer for the Kansas City Alumni Chapter and participated on the regional campaign committee for the University's "Bright Minds Bright Futures" campaign. In addition, Ryan sits on the board of Big Brothers Big Sisters of Kansas City and has served as the treasurer of the Board of Directors for Girls on the Run of Kansas City.
A Kirksville native, Ryan has a long history of family involvement at Truman. His grandfather, grandmother, mother, step-father and two sisters all attended Truman. His grandfather, grandmother and step-father all worked for the University. His mother, Claire Jepson ('73, '87), is currently teaching in the Education Department.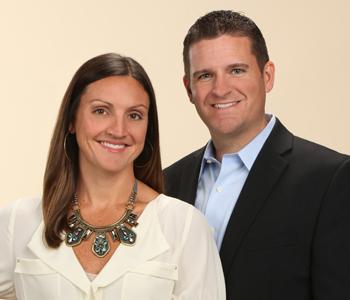 Ryan and Lauren (Rase) Shreve
Lauren (Rase) Shreve is the creative director at Silpada Designs, a sterling silver jewelry direct sales company based in Lenexa, Kan. Previously, Lauren worked as a graphic designer at Bernstein Rein Advertising Agency. She is active in the community supporting various philanthropies including the Juvenile Diabetes Research Foundation, Living Beyond Breast Cancer and serving as a coach for Girls on the Run.
Lauren is a 2003 Truman graduate, earning a Bachelor of Arts degree in business administration with an emphasis in marketing. She was a member of Alpha Sigma Alpha social sorority and was actively involved at the Student Recreation Center, serving as an aerobics instructor during her four years at Truman. Lauren is originally from Lee's Summit, Mo., and graduated from Lee's Summit North High School.
Ryan and Lauren reside in Olathe, Kan., with their sons, Grant and Evan, prospective Truman Bulldogs!
The 2014 Homecoming honorees are listed below.
Alumni of the Year
Mike McClaskey ('85) & Janet (Yearns) McClaskey ('84)
Young Alumni of the Year
Ryan Shreve ('02) & Lauren (Rase) Shreve ('03)
Distinguished Service Award
Cynthia M. Spiker ('93)
Homecoming Parade Grand Marshals
Robert Dager & Jane Dager
Bulldog Forever Volunteer of the Year Award
Michael A. Wilson ('91)
Alumni Chapter of the Year
TBA
Athletics Hall of Fame Inductees
Kristina Bredbenner ('01), Sam Lesseig, Sam Nugent and Cory Parker ('00)
More information on each of these awards, past recipients and how to nominate someone can be found at
truman.edu/alumni-donors/awards-recognition/
or you can contact
bulldogforever2@truman.edu
. To purchase banquet tickets visit the
online Alumni Store
.