Family Day Set for Sept. 13
Truman's annual Family Day is scheduled for Sept. 13 and the campus has a variety of activities planned throughout the weekend for students and their families.
This year's events are designed to provide families with information and entertainment from the University and the surrounding Kirksville community.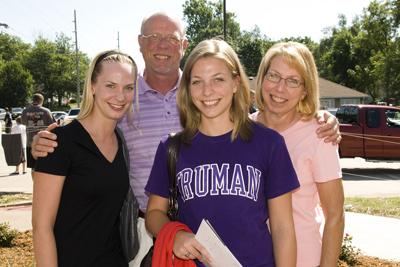 Friday, Sept. 12, the women's and men's soccer teams will play the University of Illinois-Springfield at 1 p.m. and 3:30 p.m at the Truman Soccer Field. There is no cost to attend. From 4:30 to 6 p.m., Fireside Friday will be in the Student Union Building HUB. There will be live music and free food sponsored by the Student Union and Center for Student Involvement.
Saturday, Sept. 13 kicks off with a Truman baseball scrimmage at 10 a.m. at the Truman Baseball Field. Library tours will also be available from 10 a.m. to 12 p.m.
At 10:30 a.m. at the YMCA, Phi Kappa Tau will host a Paint Party 5k fun run where participants will be covered in colored powder at various points along the course. Proceeds will benefit the YMCA and the SeriousFun Children's Network.
The Truman softball team will have a scrimmage at 11 a.m. at the Truman Softball Field. The University Art Gallery Faculty Exhibit runs from 12-4:30 p.m. In the Centennial Hall Courtyard from 1-4 p.m., there will be the Annual Festival Centennial. The Student Activities Board is hosting "Campus Feud," a Family Feud-type interactive game show, at 4 p.m. in the Baldwin Auditorium. There is no cost to attend.
The campus-wide barbeque is from 5-6:30 p.m. on the Student Union Mall (rain site: Student Union Building). Tickets cost $8.50 per person and must be purchased in advance. Students with a meal plan can eat for free with their Truman ID. Barbeque tickets can be bought online at
store.truman.edu/familyday
through Sept. 10.
At 7 p.m., the Bulldog football team plays Langston University at Stokes Stadium. Tickets are $8 for adults. Admission is free to students with a Truman ID. Tickets will be available at the ticket windows before the game or can be purchased online at
TrumanBulldogs.com
.
Sunday, Sept. 14, the women's and men's soccer teams play the University of Southern Indiana at 1 p.m. and 2:30 p.m. at the Truman Soccer Field. There is no cost to attend. Truman's volleyball team also plays Lewis University at 1 p.m. in Pershing Arena. Tickets are $3 or adults and will be available to purchase before the game. Admission is free to students with a Truman ID.
A detailed schedule of events can be found
here
. For more information, email
pr@truman.edu
or call 660.785.4016.