Percussion Artist to Visit Jan. 29-30
The Department of Music welcomes internationally renowned percussion artist Pius Cheung to campus for a feature solo performance at 8 p.m. Jan. 29 in Ophelia Parrish Performance Hall.
Dubbed a "neo-Romantic marimba virtuoso," Cheung is widely known as a master soloist on his unusual instrument. His recordings of Bach's Goldberg Variations were featured in a story in The New York Times, which praised not only the technical feat of performing the intricacies of this keyboard work, but also expressed admiration for his "deeply expressive interpretation."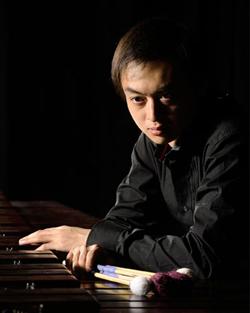 Pius Cheung
After winning the 2008 Young Concert Artists International Auditions, Cheung made his New York solo recital debut in the Young Concert Artists Series at Carnegie Hall. He has since appeared as a concerto soloist the world over, including Canada, Denmark, Croatia and at the Hong Kong Arts Festival. He is also well respected as an inspiring teacher to young percussionists, having presented masterclass at NYU, the Juilliard School, the Curtis Institute of Music, the Amsterdam Conservatory and the Paris Conservatory.
In addition to his Jan. 29 concert, Cheung will present a performance masterclass to all interested Truman students from 12:30-2:20 p.m. Jan. 30 in Ophelia Parrish Performance Hall.
Cheung's Truman appearance is sponsored by the Department of Music, School of Arts and Letters, MAC, Student Senate, Truman Percussion Society and Yamaha Corporation. For more information, contact Michael Bump at 660.785.4052 or
mbump@truman.edu
.