Ling Recognized for Distinguished Professorship in China
Huping Ling, professor of history, was honored with the distinguished Changjiang Scholar Chair Professorship by the Central China Normal University, May 7.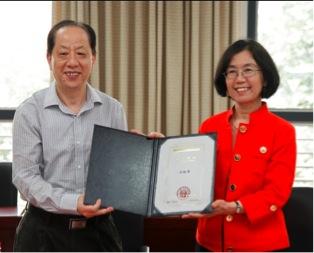 Huping Ling accepts a certificate recognizing her professorship from
He Xianglin, the Party Secretary General of the CCNU.
The New Changjiang Scholar Program, which began in 2012, is funded and administered by the Chinese Ministry of Education. It is designed to select eminent scholars in the world to help internationalize China's higher education and research. The program awards only 50 prominent scholars overseas annually, mostly in STEM and only a couple in social sciences, to teach and conduct research with leading Chinese scholars at selected institutions of higher education.
During her tenure, academic years 2012-2015, Ling will work jointly with prominent Chinese scholars, conducting research on Chinese Overseas Studies, giving public lectures at conferences and universities, launching cutting-edge research projects, initiating new research institutions and programs, teaching courses in Asian-American studies and supervising doctoral dissertations.