Faculty Honored at Accolades Banquet
Brent Bucker, geneticist and professor of biology, was awarded Educator of the Year for Truman State University at the Accolades of Academics banquet hosted by the Student Government April 11.
Buckner teaches Introductory genetics, molecular genetics, introductory biology, genetics of human disorders, cancer biology and the influence of the gene. Buckner's research focuses on studying maize genomics, which is the study of gene interactions and their effects on an organism. Buckner has published his research in 19 articles during his near 15 years as a member of Truman's faculty.
Bucker has mentored countless students throughout their independent research projects and is a prior recipient of the Outstanding Research Mentor of the Year.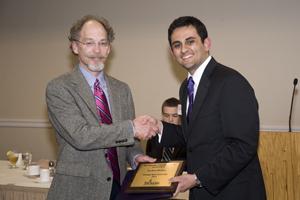 Brent Buckner, receiving his Educator of the Year award from David Lanza,
chair of student government's Academic Affairs Committee.


Buckner received his doctorate in botany and master's in botany from the University of Vermont, and his bachelor's degree from Lock Haven State College.
In addition to Buckner, finalists for the prestigious Educator of the Year award included Robert Matthews, Teresa Heckert, Hena Ahmad and Eric Patterson.
Fredric Shaffer, professor of psychology, was awarded Most Outstanding Research Mentor of the Year at Accolades of Academics.
Shaffer teaches applied psychophysiology, crisis intervention workshop, experimental psychology, physiological psychology and psychopharmacology. Shaffer is currently serving as chair of the Biofeedback Certification International Alliance (BCIA) and co-editor of the Evidence-Based Practice in Biofeedback and Neurofeedback, 3rd edition. In addition to his current projects, Shaffer has mentored more than 765 undergraduates during his 37 years as a Truman educator.
Shaffer received his doctorate in personality psychology and his master's in clinical psychology from Oklahoma State University, and his bachelor's degree from Claremont Men's College.
Shaffer is a previous recipient of Truman's Doris and Walker Allen Fellowship for Academic Excellence award.
In addition to Shaffer, finalists for Most Outstanding Research Mentor of the Year included Julia DeLancey and Margaret Edwards.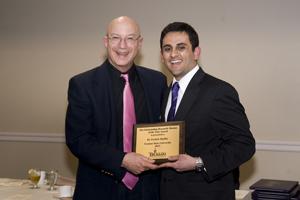 Fredric Shaffer with his Research Mentor of the Year award.
Truman's Accounting Department received the Department of the Year Award at Accolades of Academics. The Accounting Department's faculty includes Alan Davis, Keith Harrison, Darla Honn, Kristen Irwin, Kathy Otero and Cathy Poyner. Retired faculty teaching part-time includes Sandra Fleak, Scott Fouch and Sandy Weber.
The Accounting Department is part of the School of Business AACSB accreditation. In addition, the department is also accredited by the AACSB, one of 178 institutions worldwide holding this designation. The CPA Exam pass rate for alumni of the department has been in the top 25 for schools in the United States for many years. In 2011, the Accounting Department was ranked number four in the nation.
In addition to the Accounting Department, the Theatre Department and Health and Exercise Sciences Department were recognized as finalists for the Accolades of Academics Department of the Year award.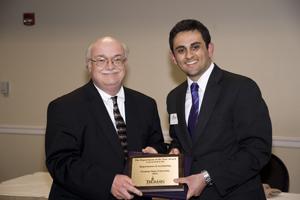 Keith Harrison on behalf of the Accounting Department accepting the Department of the Year award.
Accolades of Academics is a new, annual banquet hosted by Student Government each spring. Students have to opportunity to nominate candidates for the previously mentioned awards each year at
senate.truman.edu
.