Food Fast Contributes to United Way Goal
This year's United Way Campaign will be concluding soon, however there is still plenty of time to make a donation. To date, the Truman community has contributed more than $49,000 to the Truman United Way Campaign, representing 88 percent of the University's $56,000 goal. The student Food Fast campaign and contributions from Sodexo employees exceeded $7,200.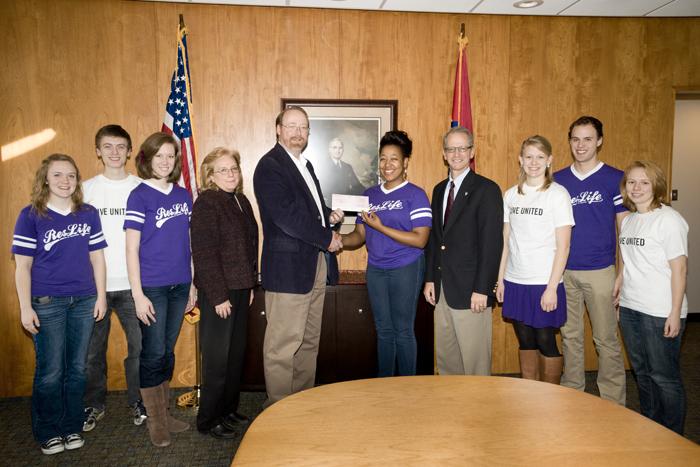 Pictured (left to right) Suzanne Hunn, Joe Wright, Ann Shipley, Lora Cunningham, John Dungan, Briana Bonner, President Troy Paino, Carly Klynsma, Isaac Akers and Jeanette Patrick. Committee members not pictured include Anne Stumpf, Joe Zempel, Will Ruman, Kayla Oliver and Drew Donahoo.
During the week of Oct. 22 students participated in the Food Fast campaign by donating meals and dining dollars as contributions towards the United Way goal. Both student advisers and Sodexo staff played an integral role in the campaign's promotion and implementation. Members of the Food Fast committee presented a check to John Dungan, head of the Adair County United Way, following the conclusion of the program.
To make a donation, contact Sally Herleth,
sallydet@truman.edu
, or Pam Ryan,
pjryan@truman.edu
, for a pledge form. Donations support the United Way of Adair County. The local United Way has among the lowest overhead in the nation, allowing a greater percentage of contributions to go straight to local programs helping people in the area pursue their goals of education, income and health.