ACS Showcases Chapter Accomplishments and Awards at National Conference in California
Truman's American Chemical Society (ACS) recently sent three students to the National Conference in San Diego, Calif., March 25-29 to present a poster featuring their chapter's activities and accomplishments.
While present, they also received the "Outstanding Chapter Award" for undergraduate student chapters. This is the third consecutive year they have earned this distinguished award.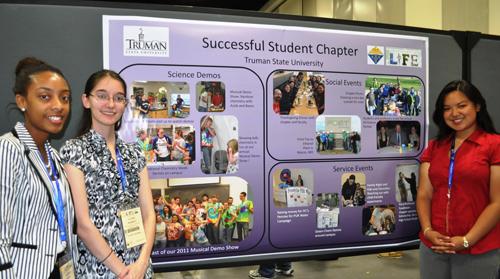 Members of Truman's American Chemical Society showcase their chapter's activities on a poster in San Diego, Calif. Pictured, from left to right: Alexis Morris, Laura Marolt and Carolyn Lee.
Their trip to the National Conference was sponsored through support from Truman's Chemistry Department and the local ACS professional chapter as well as a grant from the National ACS Organization.
At this conference, the students were able to meet and network with a variety of professionals in both industrial chemistry and academia, as well as share information with other student chapters from across America.
Their presentation focused on the service events provided by their chapter, including National Chemistry Week events in the fall and their annual spring Musical Demo Show, which will be April 15 in Magruder Hall. Additionally, the Truman ACS sponsors a yearly scholarship through local high schools for graduating seniors who intend to pursue a chemistry major at the university level.