Buford Named New Public Relations Intern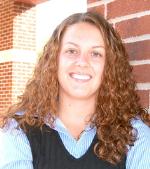 The Public Relations Office has announced Bradi Buford, a senior communication studies major, as its intern for the fall semester. Buford, a graduate of Clark County High School, is from Kahoka, Mo. She is the daughter of Kevin and Rhonda Buford and has three siblings, Britni, a 2003 graduate of Truman; Brian, a high school senior; and Brenna, a high school sophomore.
As the intern, she will assist in the writing, producing, and distributing of the University newsletter, Truman Today, as well as posting it online. She will also be responsible for editing the calendar on Channel 36, writing press releases, and performing various office duties.
Buford is a member of International Association of Business Communicators, Public Relations and Advertising Organization, and St. Paul United Church of Christ.
Buford's interest in obtaining experience and skills in various communication outlets has lead her to this position.