Phi Beta Lambda Collects Competitive Awards
The 51st Annual Missouri Phi Beta Lambda State Leadership Conference took place in Jefferson City, Mo., March 26-27. The conference theme was Missouri PBL — Simply the Best.
The conference featured competitive events for individuals and teams, leadership training and election of officers for the next year.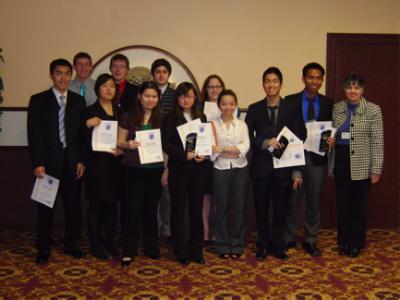 Pictured from left to right: James Fang, Parker Leatherman, Booyoung Jang, Jacob Caughron, Ivana Tjung, Giorgi Amashukeli, Wanding Shi, Caroline Forsythe, Trang Le, Son Le, Ihan Prasetyo, Cathy Poyner (not pictured: Wataru Oe).
The Truman chapter received the award for third largest chapter in the state. The following students were recognized: Ivana Tjung (3rd) and Caroline Forsythe (1st) in accounting analysis and decision making; Caroline Forsythe (4th) in business law; Giorgi Amashukeli (2nd) in contemporary sports issues; Wanding Shi (3rd) financial analysis and decision making; Wanding Shi (1st) and James Fang (3rd) in financial concepts; Parker Leatherman (2nd) in impromptu speaking; Jacob Caughron (5th) in information management; Booyoung Jang (3rd) in international business; Son Le (1st) in management concepts; Ihan Prasetyo (5th) in microeconomics; Son Le (1st) in project management; Ihan Prasetyo (1st) in statistical analysis; and Parker Leatherman (1st) in telecommunications.
Nearly all of Truman's participants are eligible to represent the University at the National Leadership Conference July 9-13, in Nashville, Tenn.
Phi Beta Lambda is an educational association of postsecondary student members preparing for careers in business.