Regina Spektor Headlines SAB Fall Concert
Regina Spektor will perform at 8 p.m. Nov. 14 in Pershing Arena for the Student Activities Board (SAB) fall concert.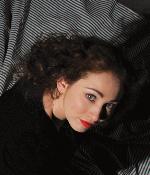 Regina Spektor

Tickets are $5 with a Truman student ID and $15 for general admission and are available in the SAB Office in the lower level of the Student Union Building or online at
http://sab.truman.edu/store
.
A veteran of New York's anti-folk scene, songwriter Spektor makes quirky, highly eclectic and always personal music.
Born and raised in Moscow until age nine, she listened to her father's bootleg tapes of Western pop and rock and also learned to play piano.
She and her family moved from Russia to the Bronx, N.Y., where she was immersed in American culture.
Spektor further developed her classical piano training by attending the SUNY Purchase Music Conservatory.
She self-released her debut album "11:11" in 2001.
With the strength of her frequent performances and another self-released album, 2002's "Songs," Spektor developed a following that included Alan Bezozi, the drummer for They Might Be Giants. He introduced Spektor to the Strokes' producer, Gordon Raphael, and both worked with Spektor on her third album, "Soviet Kitsch." Initially self-released like her other work, "Soviet Kitsch" eventually found a wider release with Sire Records.
Tours with the Strokes, Kings of Leon, Mates of State and the Moldy Peaches' Kimya Dawson further raised Spektor's profile.
In 2006 Spektor released her first album of original material for Sire, "Begin to Hope," which went gold in the U.S.
After taking several years to tour and compose new material, she returned in 2009 with the album "Far."
Doors open at 7:30 p.m. for the Nov. 14 performance. Jupiter One will be the opening act.