Truman Students Bring Home Awards from National Leadership Conference
Five Truman students received national recognition at the Phi Beta Lambda National Leadership Conference, which took place in Anaheim, Calif., June 20-23.
During the Awards of Excellence program, Alicia Stewart and Brandon Wehmeyer placed first in Parliamentary Procedures, receiving a scholarship of $500 sponsored by the National Association of Parliamentarians.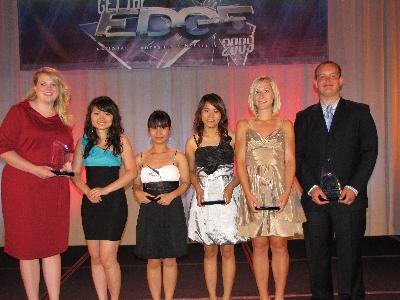 Truman students (from left to right) Alicia Stewart, Daniela (Duong) Dinh, Anh Huynh, Salisa Suwanprathip, Brianna Bernardy and Brandon Wehmeyer at the Phi Beta Lambda Awards of Excellence on June 23.
Anh Hunyh received first place in Business Law, while Brianna Bernardy placed fourth in Hospitality Management and Salisa Suwanprathip placed sixth in Macroeconomics.
The awards were part of a comprehensive competitive events program sponsored by the Future Business Leaders of America-Phi Beta Lambda (FBLA-PBL). Individuals, state teams and local chapters were encouraged to compete in any of the more than 50 different events representing a wide range of activities and the business and leadership development focus of FBLA-PBL.
FBLA-PBL is a non-profit education association with a quarter million members and advisors in 12,000 chartered middle school, high school and college chapters worldwide.
FBLA-PBL's mission is to bring business and education together in a positive working relationship through innovative leadership and career development programs.