Faculty Attend Language and Literacy Conference
The first Language and Literacy Conference, a collaborative effort between the Communication Disorders and Education Programs, with the help of the Regional Professional Development Center, took place on campus April 24.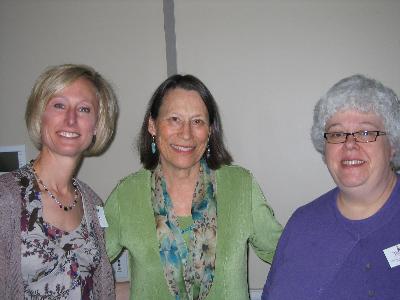 Pictured from left to right, Janet L. Gooch, chair communication disorders, Louisa Moats, conference speaker and Donna Rhinesmith, professor of education.
There were more than 115 professionals and approximately 20 students in attendance. Louisa Moats, an internationally acclaimed author/researcher in the field of reading, presented an all day workshop entitled "Phonology and Learning to Read and Spell."
Moats currently serves on the National Board of the International Dyslexia Association and is a Consultant Advisor to Sopris West Educational Service for Literacy Research and Professional Development. She is the author of "Language Essentials for Teachers of Reading and Spelling," "The Speech Sounds of English," "Speech to Print: Language Essentials for Teachers," and many other texts. The conference was followed by an alumni social.