Truman Welcomes New Provost, Directors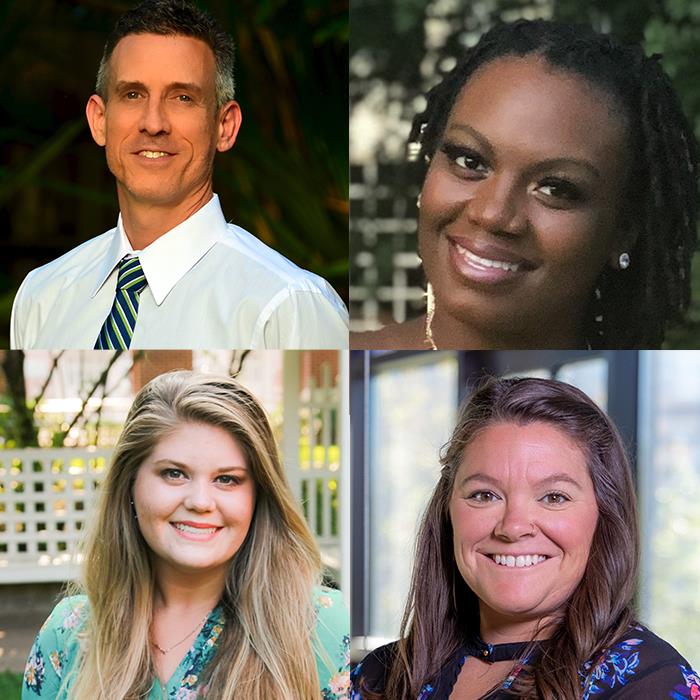 New hires (pictured clockwise, from the upper left) Eric Freedman, Vanessa Alexander, Allison Gus and Ashleigh Harding have been selected to fill key roles on campus.

Truman will soon have a total of four new hires on campus in key positions.
New directors will oversee the Center for Academic Excellence, the Center for Diversity and Inclusion, and the Office of Admission, while the University will also welcome a permanent executive vice president for academic affairs and provost.
Eric Freedman has been selected as the executive vice president for academic affairs and provost. Since 2016 he has served as the dean of the School of Media Arts at Columbia College Chicago. In that role, he was a member of the Academic Affairs senior leadership team, assisting the school in college-wide strategic plans while managing academic programs in Chicago and Los Angeles. Freedman served on the academic performance solutions leadership team, the tuition assessment steering team, phased retirement task force and strategic planning steering team. Throughout his career he has gained extensive experience in faculty and staff recruitment, academic program development, resource management, fundraising and community engagement, as well as diversity, equity and inclusion initiatives. Freedman has a Bachelor of Arts degree from Cornell University and Ph.D. from the University of Southern California. He will begin his duties at a start date to be determined.
As the director of student success, Ashleigh Harding oversees the Center for Academic Excellence. An alumna of the University, she brings a wealth of Truman-specific experience to the position. Most recently, she worked in the CAE as an academic advisor and coordinator of University tutoring. Harding has also served Truman as a graduate teaching and research assistant for the Department of English and Linguistics, was a student assistant for the Special Collections and Museums Department, an academic professional development tutor for the McNair Scholars Program and a traveling admission counselor. She is a member of the National College Learning Center Association and the Missouri College Learning Center Association, and served on Truman's Living-Learning Community Steering Committee and the Department of English and Linguistics' Antiracist Committee. Harding began her new role Jan. 3.
Alumna Vanessa Alexander will return to Kirksville to serve as the director of the Center for Diversity and Inclusion. She has spent her career in higher education in admissions-related positions focused on programming, student experience and financial aid, most recently with the University of Pennsylvania Graduate School of Education and Drexel University College of Medicine. She previously worked for Truman as an admissions counselor before taking a similar position with A.T. Still University where she also served as the school's Diversity and Inclusion Liaison. During her time at Truman, Alexander was a Multicultural Affairs student intern and participated in the Minority Ambassadors Program for four years. She has served the University as a Diversity Fellow and as a member of the Strategic Plan Committee in 2021. She will begin her duties Feb. 13.
Allison Gus will be the new director of admission. She comes to Truman from the University of Colorado Denver where she has served in the capacity of graduate program coordinator, admissions and recruitment coordinator, graduate admissions specialist and most recently as the director of admissions management and outreach. She has experience working with community college and high schools to establish and maintain programmatic relationships, articulation agreements and memoranda of understanding that develop student pipelines. She is also familiar with the Slate CRM platform and its use for implementing a standardized communication plan for prospective students. Gus is a graduate of Iowa State University with Bachelor of Arts degrees in advertising and art and design. She will begin her duties Feb. 27.
The marketing position posted in the fall will be reopened in the coming weeks and posted at
trumansu.peopleadmin.com
.