University Offers Multiple Safety Resources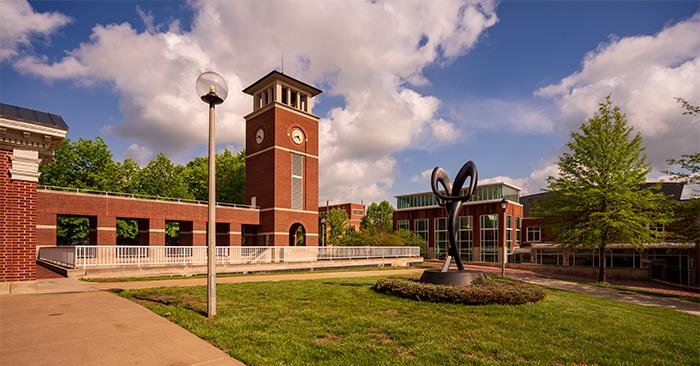 The University and Department of Public Safety have multiple resources available to keep campus safe, including a communication app, emergency text messaging, foot patrols and escorts, and recently added security cameras.
The Rave Guardian app is available for download to assist with communication and safety efforts. It is a reliable way to communicate effectively, utilizing multiple channels to enhance full dissemination. In addition to its use in emergency situations, the Rave Guardian app has many every day, non-emergency uses. The app has contact information for offices that students use most frequently – including Financial Aid, the Student Health Center, University Counseling Services and the Student Recreation Center – as well as maps and resource information. Enhanced safety features include immediate and on-demand panic buttons, two-way texting with a Truman police officer to report a crime, anonymous tip reporting of suspicious behavior and a unique "virtual walk" escort that utilizes GPS tracking. Rave Guardian can be downloaded for free at the
Apple App Store
and the
Google Play Store
for Android.
TruAlert sends a text to all enrolled cell phones in the event of an emergency on campus. Those interested can sign up for this service through TruView by going to the main page under "Update and View My Personal Information" then clicking on "Emergency Text Messaging." Multiple numbers can be assigned, so parents can stay informed as well.
DPS also offers the option for students, faculty, staff and visitors to request a SAFE Team escort while on campus. The Student Assistant Foot Patrol and Escort team members are student employees and uniformed officers who patrol the campus and provide a walking escort from building exit to building entrance or parking areas. These escorts are provided with a flashlight and radio with direct contact to the University Police Department. The SAFE Team is available seven nights per week during the regular academic year when classes are in session. To request an escort call 660.665.5621 and a SAFE Team member will be dispatched to help.
This summer, Truman also installed cameras across campus to help increase security. These cameras are mounted on poles in parking lots as well as on the exterior of buildings.
The DPS website,
police.truman.edu
, features a variety of information, including the University's Emergency Response Guide, crime and safety data, details on vehicle and bicycle registration, and the campus lost and found.