Campus Concert Features Guest Percussion Artists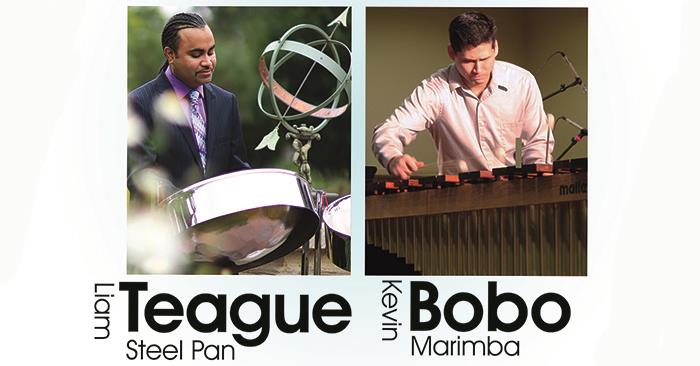 Internationally renowned guest percussion artists Liam Teague and Kevin Bobo will perform at 7:30 p.m. Oct. 26 in the Ophelia Parrish Performance Hall.

Teague, a native of Trinidad, currently serves as distinguished faculty at Northern Illinois University where he directs the steel band program. He has often been referred to as the "Paganini of steel pan," for performing all over the world and raising the stature of solo steel pan performance to virtuosic levels. He is also a highly respected steel pan composer, with multiple publications to his name. Teague often returns to Trinidad, serving as director and arranger for the Nutrient Silver Stars in Port of Spain.
Bobo is professor and director of percussion studies at Indiana University's Jacobs School of Music. He has performed on five continents and in nearly every state in the Union as a solo marimba musician. Bobo is also a prolific percussion composer, with his pieces routinely appearing on international competition and performance repertoire lists. His marimba technical virtuosity is regarded as innovative and a forerunner in modern performance and instruction.
The artists will also host a performance masterclass/clinic from 5:30-6:30 p.m. Oct. 26 in Ophelia Parrish 2340. The concert and performance clinic are sponsored by Funds Allotment Council, the School of Arts & Letters, the University Percussion Society, Innovative Percussion, Inc., Phi Mu Alpha Sinfonia and Malletech, Inc.
For more information, contact
Michael Bump
, professor of music.