Faculty Members Receive Innovation Awards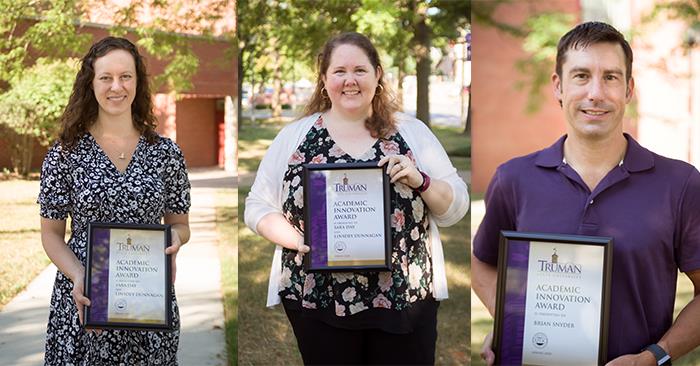 Lindsey Dunnagan, Sara Day and Brian Snyder
Sara Day, Lindsey Dunnagan and Brian Snyder all earned the spring 2020 Academic Innovation Award.
Day and Dunnagan were recognized for "
Cross-Course Collaboration: The Picture Book Project
." Students from Day's Literature for Children class wrote their own original stories, and Dunnagan's Intermediate Drawing Experience students created illustrations. Bringing together strengths from different areas, this cross-course collaboration reflects what authors and illustrators may encounter in a publishing setting.
Brian Snyder won for "
Pulmonary Gas Exchange in Exercise Physiology
." Pulmonary gas exchange is a difficult concept to truly grasp for most undergraduate students as it combines physiology, anatomy and chemistry. By personifying hemoglobin and the oxygen it delivers, respectively as a white Pontiac Sunbird convertible and people going to parties, Snyder allowed students to engage with the advanced concepts and discuss them with their peers.