Music Student Gets Creative for Recital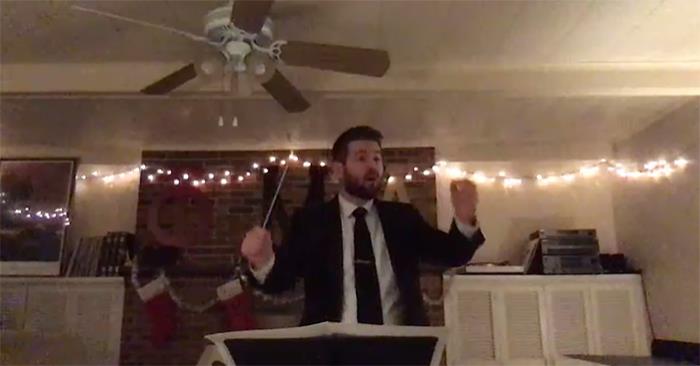 Graduate student Kyle Rieger tends to be more pragmatic than positive. He likes things to go according to plan, and when they don't – by his own admission – he might not be the most positive person in the room.
When it was announced Truman would be suspending in-person classes for the remainder of the spring semester Rieger, who is completing a Master of Arts degree in conducting, immediately thought of all the things he would be missing, such as concerts, performances, making music with groups of friends and, most notably, his conducting recital. After the initial shock wore off, Rieger decided a global pandemic may have changed his plans, but it didn't have to stop them. He posted on Facebook that he would host his recital live later that evening on the platform.
"Instead of sitting around and moping, I wanted to celebrate the work that had already been done," Rieger said. "I put on my concert tuxedo, rearranged my living room and cued up all of the music we would have played live in an attempt to make the best of the situation."
While it was not what he had been envisioning for years, Rieger's recital can be considered an early success story for the now altered semester. At points during the live presentation more than 60 people were watching, and the recording has been viewed hundreds of times.
"The support I've received has been almost overwhelming," he said. "I've received support and thoughtful comments from fellow music students, professors, alumni, administrators and family, and it has meant the absolute world to me that so many people would tune-in and share their well-wishes."
Rieger will complete his Master of Arts degree in conducting this spring, his second Truman degree after receiving a Bachelor of Music degree in composition in 2018. Technically, he will still be a student in the fall as he is scheduled to earn his Master of Arts in Education degree with a concentration in music in December. Since he will be participating in a student teaching internship with the Lindbergh School District in the St. Louis area, his time on campus has essentially come to an end. Although things are not following the normal plan, Rieger is doing his part to stay positive.
"In situations like this, where the plan gets completely thrown out the window, you're almost forced to turn to positive thinking for risk of driving yourself crazy," Rieger said. "I remind myself a lot about why Truman and other institutions across the country made the right call in suspending in-person meetings and events, while trying to find as many silver linings and hidden opportunities as I can. Plus, I don't think there's ever been a better time than right now to be thankful for what you have."