Truman Remains a Top Fulbright Producer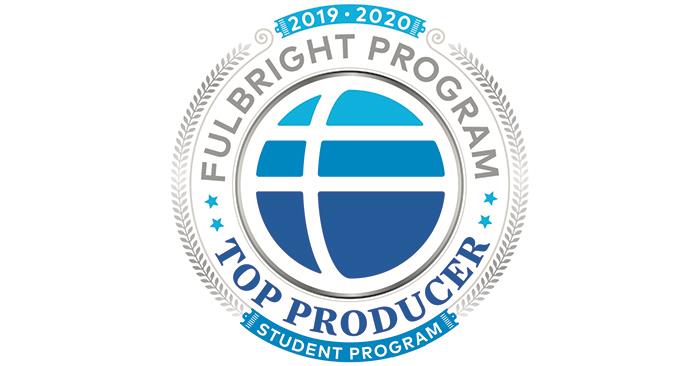 Truman has been included on the list of U.S. colleges and universities that produced the most 2019-2020 Fulbright U.S. students.
Each year the U.S. Department of State's Bureau of Educational and Cultural Affairs (ECA) announces the top producing institutions for the Fulbright Program, the U.S. government's flagship international educational exchange program.
The Chronicle of Higher Education
publishes the lists annually.
Published in the Feb. 10 online edition of The Chronicle of Higher Education, Truman was included on the list of master's institutions for producing Fulbright students. The University had four Fulbright students selected from a total of nine applicants. That was good enough to place Truman among the 28 schools on the master's institutions list. Truman was the only Missouri university to make that particular list.
The Fulbright Program was created to increase mutual understanding between the people of the United States and the people of other countries. The primary source of funding for the Fulbright Program is an annual appropriation made by the U.S. Congress to the U.S. Department of State's Bureau of Educational and Cultural Affairs. More than 2,200 U.S. students and 900 U.S. college and university faculty and administrators are awarded Fulbright grants annually. In addition, some 4,000 Fulbright foreign students and visiting scholars come to the United States annually to study, lecture, conduct research or teach their native language.
Since its inception in 1946, the Fulbright Program has given more than 390,000 passionate and accomplished students, scholars, teachers, artists and professionals of all backgrounds and fields the opportunity to study, teach and conduct research, exchange ideas and contribute to finding solutions to important international problems. The global network of Fulbrighters fosters mutual understanding between the United States and partner nations, advances knowledge across communities and improves lives around the globe.
Fulbright is active in more than 160 countries worldwide and partners with participating governments, host institutions, corporations and foundations in foreign countries and in the United States. For more information about the Fulbright Program, visit
eca.state.gov/fulbright
.